It was like a scene out of Jaws, except that thankfully, the shark was much, much smaller. Whilst taking a dip in the sea in Florida a woman was attacked by a two-foot-long nurse shark, which refused to let go, even when out of the water. Even as fellow beachgoers rushed to her aid they could do nothing to loosen its grip, until eventually, the victim was stretchered away with the creature still attached.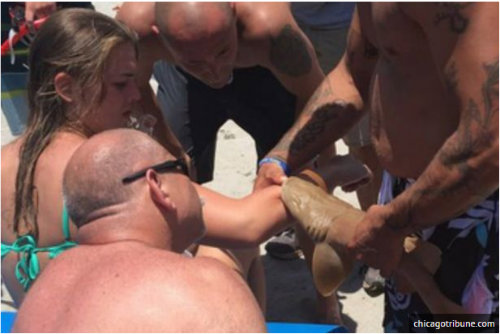 "The shark wouldn't give up. It was barely breathing but it wasn't letting go of her arm, like it was stuck to her or something," bystander Shlomo Jacob told the Sun Sentinel. Medics eventually took the woman to nearby Boca Raton Regional Hospital where she is in a stable condition.

Whilst Florida has one of the highest shark attack rates in America owing to its warmer climate, an attack is highly unlikely. In fact, you have a one in 63 chance of dying from the flu and a one in 3,700,000 chance of being killed by a shark (especially one this tiny)


To learn more about the world of nature subscribe to BBC Wildlife magazine.