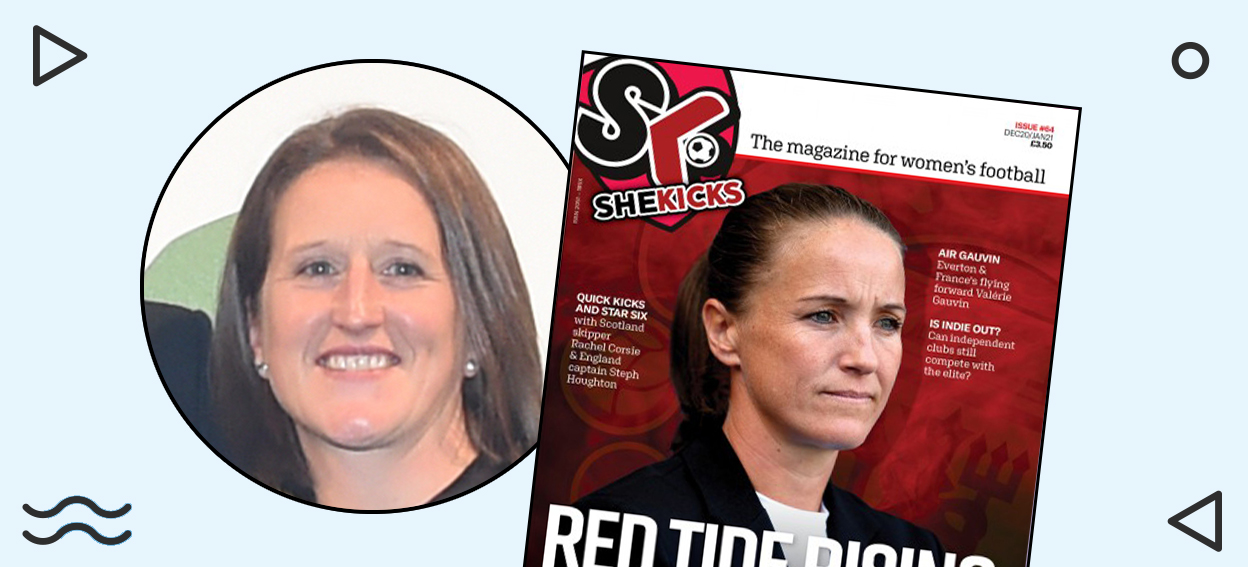 What is the best part of being editor to SHE KICKS magazine?

Talking about, watching and writing about football is partly my job but also working with friends who also talk about, watch and write about football is also my job. I get lovely feedback from young readers and their parents, plus as a former player, seeing the development of the game and former teammates smashing it at the top level, being ace role models and making it their profession is fab. The BEST bit though, to be entirely selfish, is going to big tournaments. I've covered six women's world cups and five European Championships (and the 2012 Olympics) and they have all been incredible experiences in so many different ways.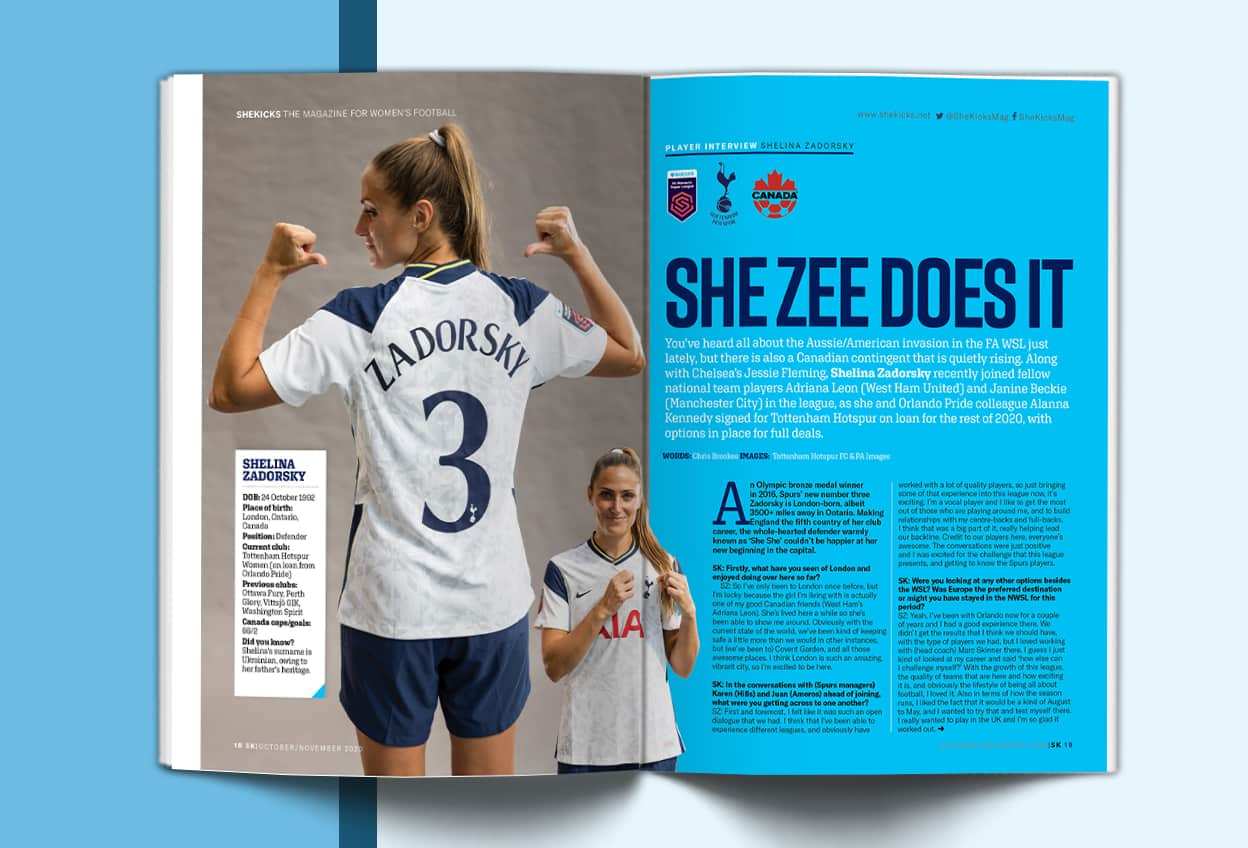 What can subscribers expect from future issues? Why subscribe?

At SHE KICKS we always say, "We take our football seriously but not ourselves." So, you can always rely on our magazines to have a fun element, to include a bit of silliness (especially in our shorter Locker Room 'quizzes') alongside the coverage of the elite leagues like the WSL and SWPL in the UK but we will never talk down to our readers because we know they share our love for the game.

We regularly include interviews with top players/managers featuring in those competitions but also international stars and coaches from further afield too (oh and posters, we like posters!), always mindful to spread our interest around. And if there's an issue we (or you) think needs investigating, we look into it.
Plus, there's room for stories from the FA Women's Championship and National League, focused regular features on GKs, strikers, captains, fitness and formations and a section for younger readers: #SheKicksLittleKicks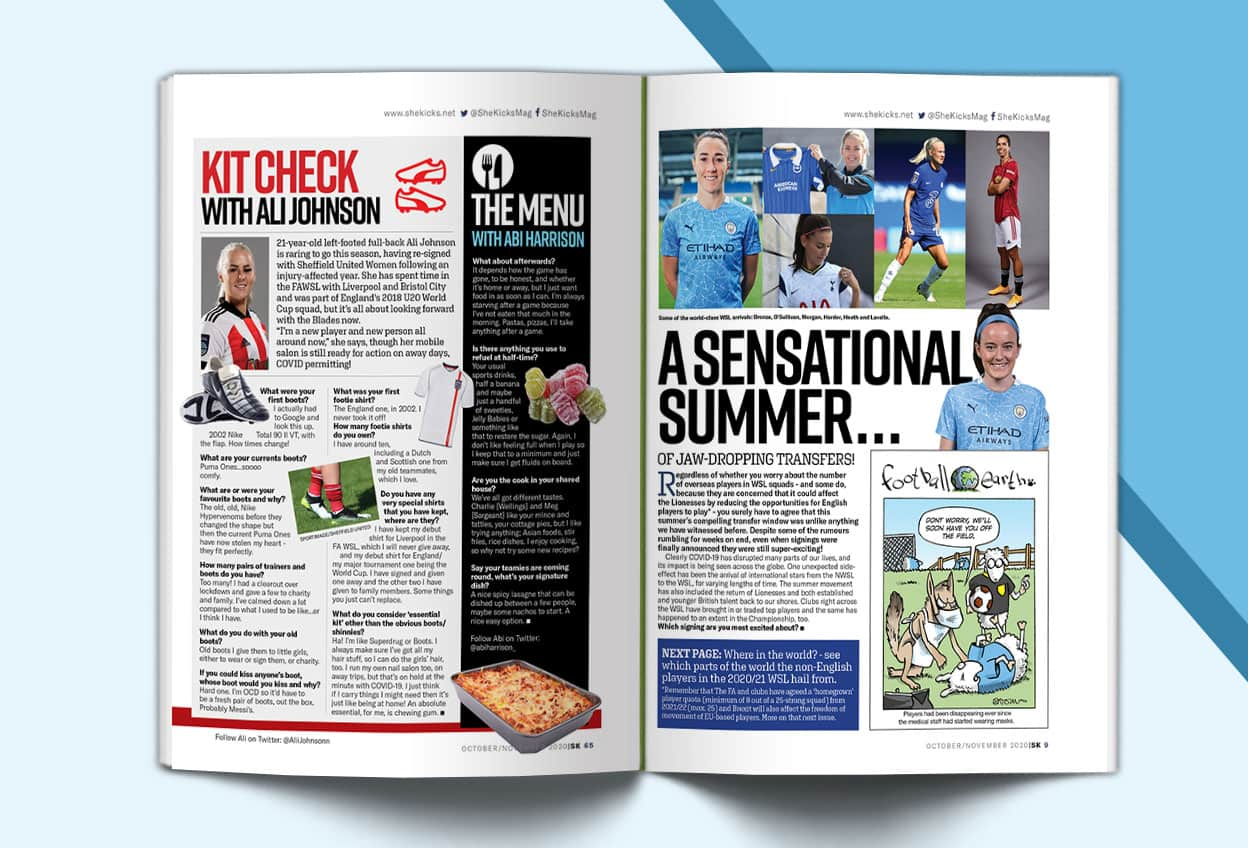 Who do you think will win Women's Super League this season?

That is a very difficult question to answer! Last year I was happy to unequivocally back Chelsea from even before a ball was kicked. This season, however, things will be very different. The women's Champions League is the trophy that Emma Hayes and her side really want and she looks like she may finally have a squad strong enough to conquer the best in Europe but competing across many competitions can be a drain and it will be taxing for Manchester City too - a team also adapting to playing under a new manager. City look to have clicked in their last two games and finally have options in lots of positions. Arsenal are so exciting going forward and do not have that extra distraction of Europe this year, so it may give them an edge?

There have been so many quality signings across the league, from top to bottom, and Everton and Manchester United should be pushing and testing the pedigree of the top three. But the winner of the WSL will come from the Arsenal, Chelsea or City. If I'm pushed, at this stage, I'd say Chelsea but it depends what happens in head-to-head matches, and I wouldn't be surprised or disappointed if the Gunners or Citizens were lifting the league silverware come the season's end.
Please, please just let football be the ultimate winner and not COVID-19 and points per game.

Subscribe and save with a magazine subscription, with delivery included in the price!