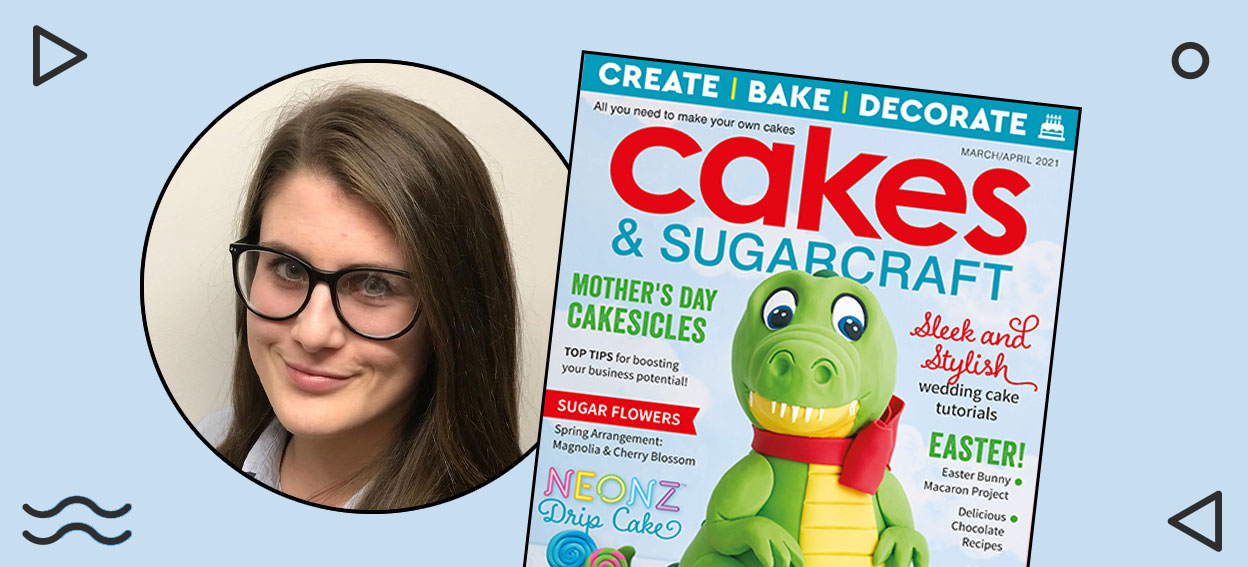 Being the editor of Cakes & Sugarcraft magazine must be a fun job! Can you recall the first time you baked your first cake?

It's a very fun job, even if it does make me extremely hungry throughout the day! I've always loved being in the kitchen as I adore food. In fact, one of the earliest memories I have is helping my grandmother mix cakes and being allowed to lick the bowl clean. That being said, my most memorable childhood moments in the kitchen were with gingerbread at Christmas. Having grown up abroad in Norway, decorating gingerbread was a big tradition in our household. I used to love rolling and cutting out all different types of shapes and then icing my gingerbread cookies with fun designs. I wouldn't say it was my best work, but I loved every minute of it!

What advice would you give to a beginner baker who would like to take their craft of cake decorating more seriously?

You know what they say: if at first you don't succeed… And this is 100% true for beginner bakers. Even the most accomplished cake decorators aren't immune to error. It's important to realise that you're bound to make mistakes when you first start out, but that's not a bad thing! Your mistakes are your experience, and these are important for your growth as a cake artist. By putting those lessons into practice, you will know what not to do next time.

In the same vein, it's important to have the basics down before experimenting with more creative and challenging processes. It's easy to brush off the basics and skip ahead without perfecting them, but these skills are the foundation of everything you will ever do with cake decorating. Good groundwork means it will be a lot easier for you when the time comes to decorate. It might be frustrating at first, but you'll definitely appreciate it later!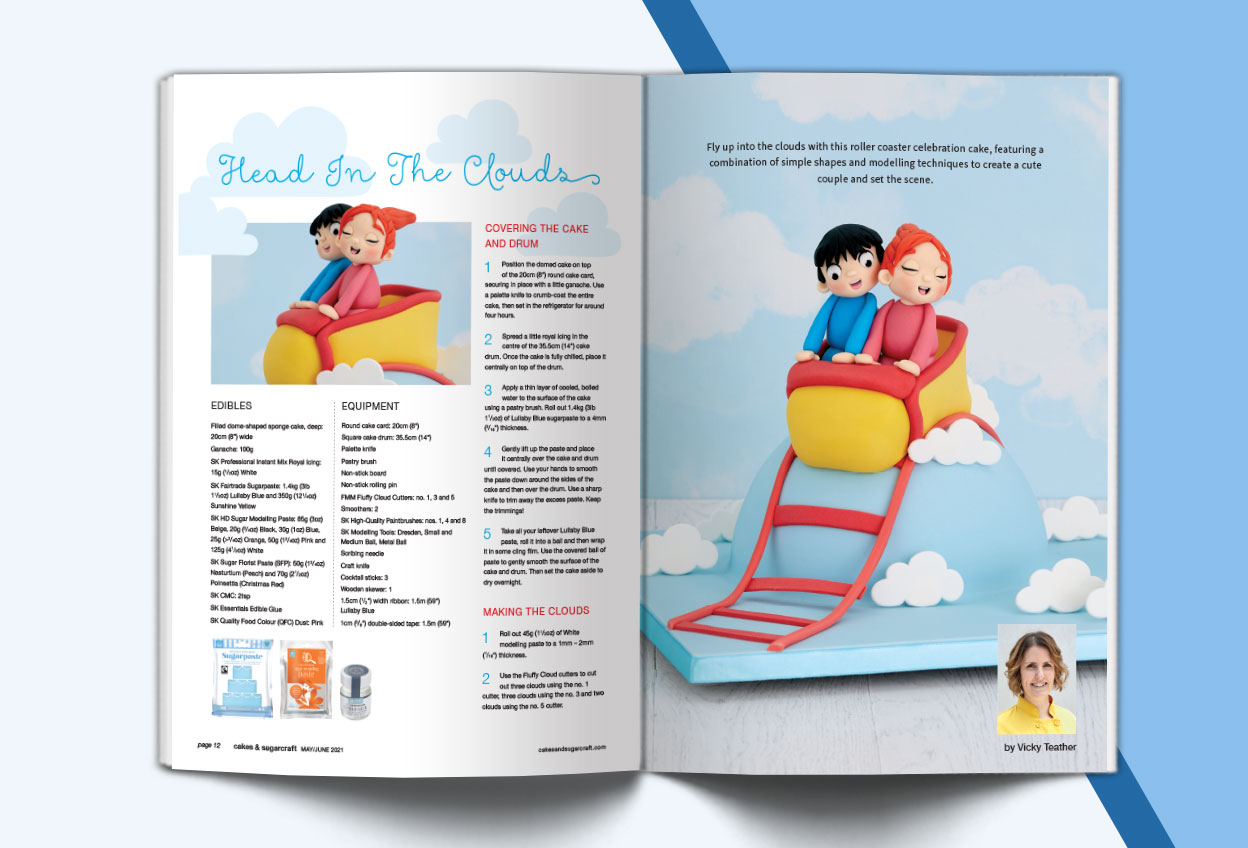 Will beginner readers need to have many modelling tools at home to make use of the decorating tips in the magazine?

No, not at all. When starting out (and for a lot of modelling projects) you don't need an array of tools to hand.

That being said, all sugarcrafters know that there's a few tools which, once added to your collection, become essentials that you couldn't be without. Two such items are the Ball Tool and Dresden Tool (also known as a Petal & Leaf Shaper Tool).

These tools can be used to add detail to flower paste, sugarpaste, modelling paste, marzipan, and much more. You can use a double-edged Ball Tool to shape and soften sugar petals and leaves, or to add details to modelling projects like eye sockets and ears. For the Dresden Tool, you can use the wider end for frilling and thinning the edges of petals and leaves, as well as for hollowing out the centre of multi-petal flower shapes. The narrow end is useful for creating veins, and curling or curving petals and leaves. You can also use both ends of the tool to add detail to modelling projects.

These two tools are staples to have in your arsenal, as they will be sure to make all your modelling escapades so much easier.

Many bakers follow trends or dietary requirements when attempting to bake. Does Cakes & Sugarcraft magazine include any vegan and gluten-free recipes?

Yes! We currently feature a number recipes in each issue, of which a few are either vegan and/or gluten-free. We actually carried out a poll online recently where we asked our followers about what they'd like to see more of featured in the magazine. Both vegan and gluten-free recipes proved to be very popular interests, so this is definitely something we will be including more of going forward. Watch this space!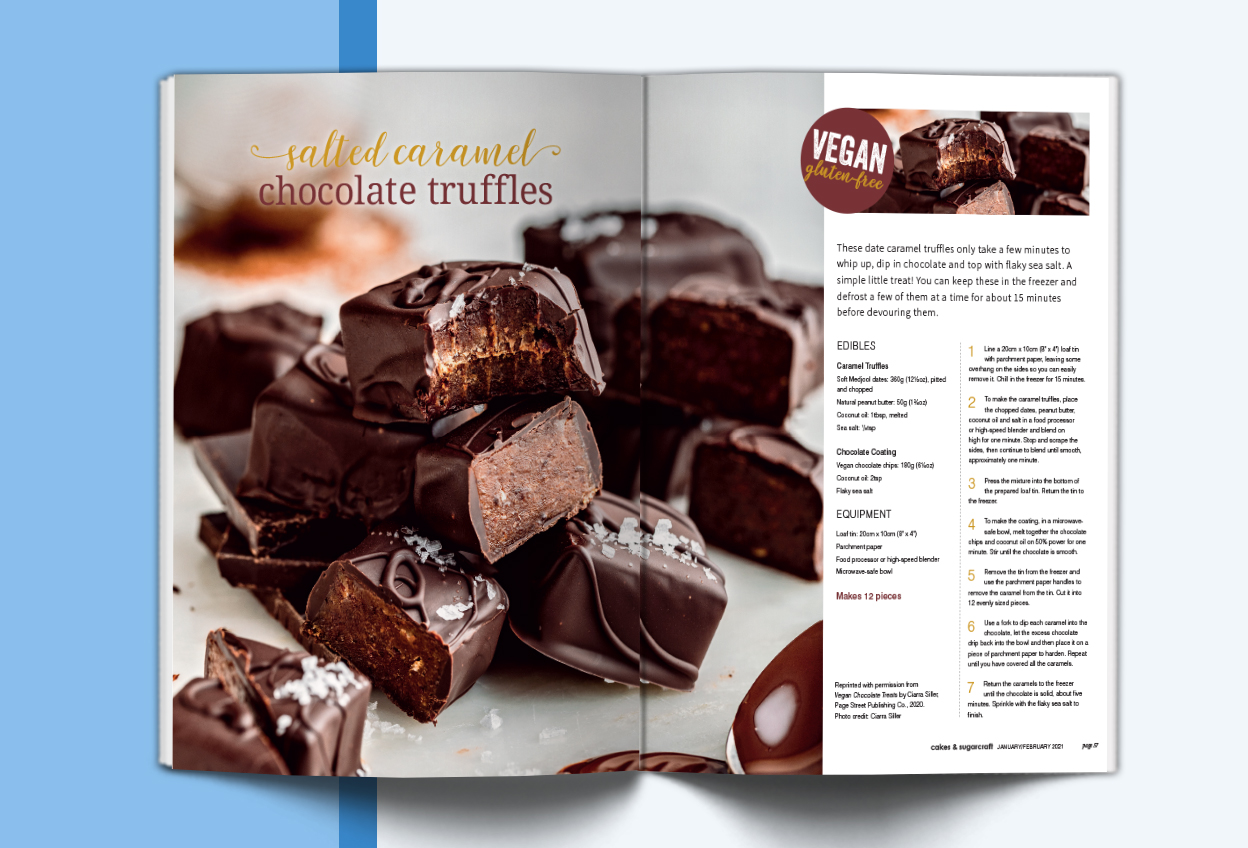 What can readers expect from upcoming issues? Why subscribe?

Cakes & Sugarcraft magazine is perfect for keen bakers looking to step up their decorating skills, as well as experienced sugarcrafters looking for ideas and inspiration.

When you subscribe, not only do you get every issue delivered straight to your doorstep, but you also save at least 10% on the cover price versus grabbing a copy at the shops. What's more, you'll also be the first to get your hands on every single issue.

There's something for everyone in each issue, with new themes, recipes and decorating techniques featured throughout the pages. To give you a sneak peak, the upcoming May/June issue includes projects like a hand-painted Santorini holiday cake, pretty springtime sugar flowers, a geometric styled wedding cake, some Father's Day mini beer cakes, a neon rainbow showstopper and even a fun rollercoaster centrepiece!

In addition to seasonal themes and annual holidays, we've also got lots of exciting projects already scheduled throughout the rest of 2021. From carved 3D cakes and modelled sugarpaste scenes, to celebration cakes and seasonal sugar arrangements, to new techniques and top wedding cake trends. So subscribe and make sure you don't miss any of it!

Subscribe and save with a magazine subscription, with delivery included in the price!