He may have retired from track in August after winning the 5,000m at the Diamond League meeting in Zurich - which followed his thrilling gold triumph in the men's 10,000m at the World Athletics Championships in London - but Mo Farah has confirmed that he is not entirely out of the race yet as he set his sights on the London marathon in April.
The four-time Olympic champion broke another record yesterday September 10, becoming the first athlete to win The Great North Run in Newcastle. The win puts the affable 34-year-old in good stead as he begins a new chapter of his career focusing on road races.
But despite his famed athletic prowess, Mo revealed that the race was far from easy, saying afterwards: "That was really, really tough. I'm sore everywhere — I've never been this sore! With four miles to go I was just hanging on, gritting my teeth. As we got closer, I managed to believe in myself and dig, and I was thinking 'if I can just sit on him (Robertson), at the end I can sprint'.
"I'm so pleased with how the season has gone. I'll go on a little holiday with the missus and then come back fresh. I'm looking forward to sticky toffee pudding and apple pie!"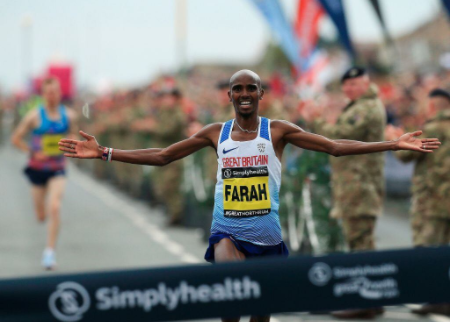 He will certainly need the rest, as he also confirmed his intentions to run in the London marathon next year (his only previous attempt was in 2014 where he finished in a disappointing 2hr 8min 21sec) but played down rumours he would only compete in the Olympic marathon in 2020 if her were 'good enough.'
We whatever happens, Sir Mo's status as a national treasure is well and truly cemented.
If you love to go the distance, subscribe to Runner's World and save up to 64%
Images: Instagram/Mo Farah