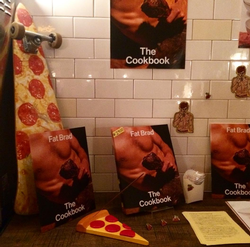 Brad Pitt might be the owner of an Adonis-like figure, but his cinematic characters tend to be chowing down on some morsel of fast food or another in nearly every film. Published by Long Prawn, 'Fat Brad: The Cookbook' is every Brad-fan's ticket to eating, and therefore looking*, like your idol.

"We loved the brilliant disparity between Brad's on-screen penchant for food and his god-like body," says Fred Mora, one of the three founders of Long Prawn. It was only a matter of time before someone had to call him out on it, or rather, celebrate him for it; we wanted to be first to the plate. All of a sudden we had a 50+ page book and there is still a long list of meals and snacks we have not included."

Including recipes inspired by Pitt-flicks such as Snatch (Game Bird and Taters) and Ocean's 11 (Bellagio Shrimp Cocktail), Fat Brad is a whirlwind tour of cinema, grease and everybody's favourite hungry Hollywood heart-throb.



"We became film-buffs, dieticians and hermits all in one go. We gathered the guts of information from the films, handing them to the talented Ali and Mietta to whip them into delicious renditions of our sometimes lofty ideas," said Moura. "We knew the idea had legs when we started handing out the book to friends, they would invite us over, chuck on the film's soundtrack and cook up the creation from the film; of course incessantly forecasting what Brad would do. It was more fun than we had ever imagined."

'Fat Brad: The Cookbook' is available from the Long Prawn website here, and if you're looking for more foodie inspiration, grab a subscription to BBC Good Food - now with up to 16% off.


*You will probably not look like Brad Pitt if you eat the food in this cookbook, unless, of course, you are Brad Pitt.