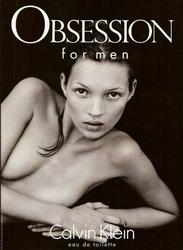 No doubt this year's Fall 2016 'I ___ in #mycalvins' campaign will become another historic moment in fashion. Shot by the London based photographer and film maker Tyrone Lebon, it consists of an impressive spread of 29 images, 12 video interviews with featured stars, and of course a campaign video.



It is the first time that Calvin Klein has released an advertisement campaign that includes all of their brands –Calvin Klein Collection, Calvin Klein, Calvin Klein Jeans and Calvin Klein Underwear. Modelling their various collections are a host of various celebrities embracing their sexualities: Frank Ocean, Kate Moss, Kendall Jenner, Justin Bieber, Kendrick Lamar, FKA Twigs, Margot Robbie, Grace Coddington, Lola Kirke, Bella Hadid and many more.




Commenting on why the hugely successful fashion house chose advertise all of their brands together, with a diverse selection of models, Melisa Goldie, CMO of Calvin Klein, Inc. released the statement:
"This campaign is representative of how culture is evolving as we speak. We're bringing together a diverse mix of provocateurs with a unique collective of visual artists to create content that sparks and drives cultural conversation. Millennials reject labels when it comes to their own identities, and they want products that are personalized and individual, which we're achieving as Calvin Klein moves toward further establishing itself as a lifestyle-centric global brand. To do that, we have to recognize that people don't want traditional one-sided advertising anymore. Instead, they want to participate in campaigns that capture their imagination" – said Melisa Goldie, CMO of Calvin Klein, Inc.

These photographs are not just advertisements but works of art –stunning portraits of people who have an important standing in our culture today. Tyrone Lebon's representation of each star is immortalised in peachy coloured photographs, shot on film, that reject the highly photo-shopped norm of fashion advertisements.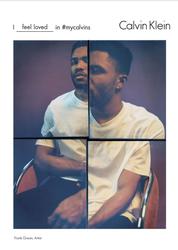 Images that jump out from Le Bon's provocative collection are those of everyone's favourite party-loving model Kate Moss, and the young supermodel following in her footsteps, Bella Hadid. Years after the Calvin Klein campaign that launched her career, Moss returns with her smokey eyes and messy bleach blond hair to be captured intimately by the new British photographic talent: 'I radiate in #mycalvins'.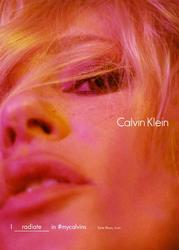 Bella Hadid poses topless on a mirrored floor in her Calvin Klein jeans, in front of a warmly coloured red-orange background. The nineteen year old oozes young romantic passion as she glances over her shoulder provocatively. In her video interview she admitted to being very flirtatious, explaining that it is just a natural part of her personality, which Le Bon has perfectly captured. Fittingly, Hadid's line in the campaign video is 'I make love in #myCalvins.'




To get your hands on more images from the Fall 2016 'I ___ in #mycalvins' subscribe to Dazed & Confused Magazine and save up to 41%.