It's that time of year again here when the top draws in Tinsel Town gather together to be photographed by the legendary Annie Leibovitz for Vanity Fair's Annual Hollywood issue.
With the entertainment industry under daily scrutiny in the wake of the #Metoo campaign and ongoing gender pay gap scandal, the illustrious society magazine has worked to make the issue a thing of diversity, equality and exceptional talent.
Vanity Fair wrote of the issue: "The films and TV shows represented by the actors in this year's Hollywood Portfolio—which for the first time offers a behind-the-scenes look at the shoot—took the #MeToo movement in stride, offering strong women in leading roles, as well as strong men supporting them.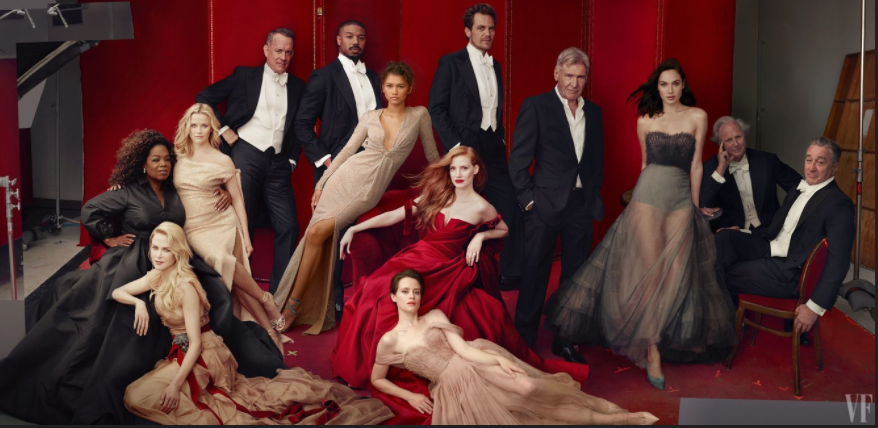 "Here we have Reese Witherspoon and Nicole Kidman summoning the women's battle cry of Big Little Lies, alongside Tom Hanks as Ben Bradlee, the indispensable sidekick to The Post heroine Katharine Graham. There's also Claire Foy and Gal Gadot, embodiments of their formidable characters, the Queen and Wonder Woman, and one possible future female president in the mix."
Oprah Winfrey, Nicole Kidman, Reese Witherspoon, Tom Hanks, Michael B Jordan, Zendaya, Jessica Chastain Claire Foy, Michael Shannon, Harrison Ford, Gal Gadot and Robert De Nitro make up the powerful ensemble, along with the magazine's editor Graydon Carter.
Subscribe to Vanity Fair today and save up to 46% off cover price.