The National Geographic magazine has always been at the forefront of documentary journalism with features on a wide range of topics from the wonders of the world, to the complexities of war. Similarly, their magazine covers were captured by the very best documentary photographers, and play a huge role in telling the magazine's stories.

Every cover, over the course of its 126-year history, has opened reader's eyes to the miracles of life on earth. Since its beginning, the magazine has published over 1,465 covers! Here's just six of their most historic covers…

October 1978 - Portrait of the Artist as a Young Ape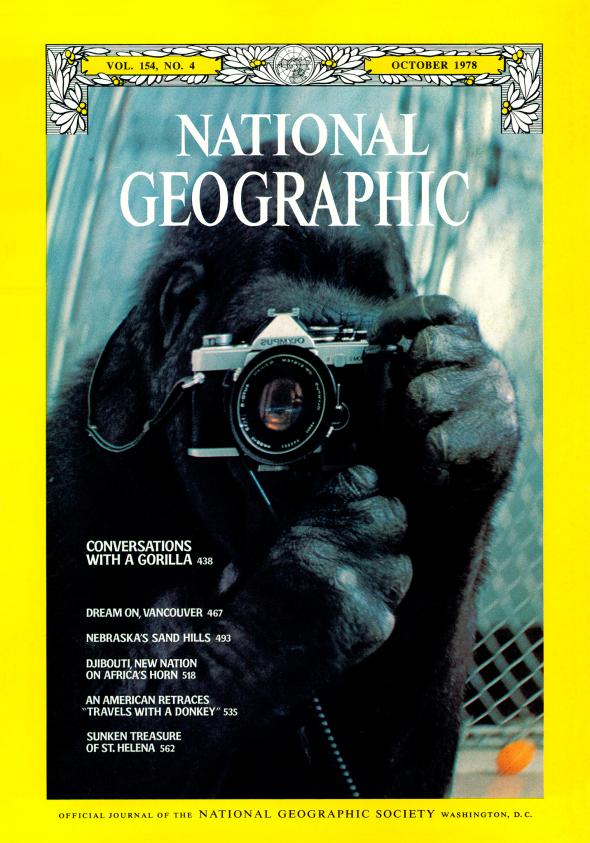 This cover was both modelled and shot by Koko the gorilla. His self-portrait graced the October 1978 cover, and complimented his cover story, "Conversations With a Gorilla."

Koko was a highly intelligent gorilla; she was taught nearly 1,000 words in American Sign Language by researcher Penny Paterson, and then learned how to operate an old Polaroid camera for this cover. Koko imitated a photographer until she had taken her first shots. The gorilla loved the flash of the camera's strobe light. After being directed in a mirror by a National Geographic editor to snap a 'selfie', she signed "Love camera."


June 1985 - The Afghan Girl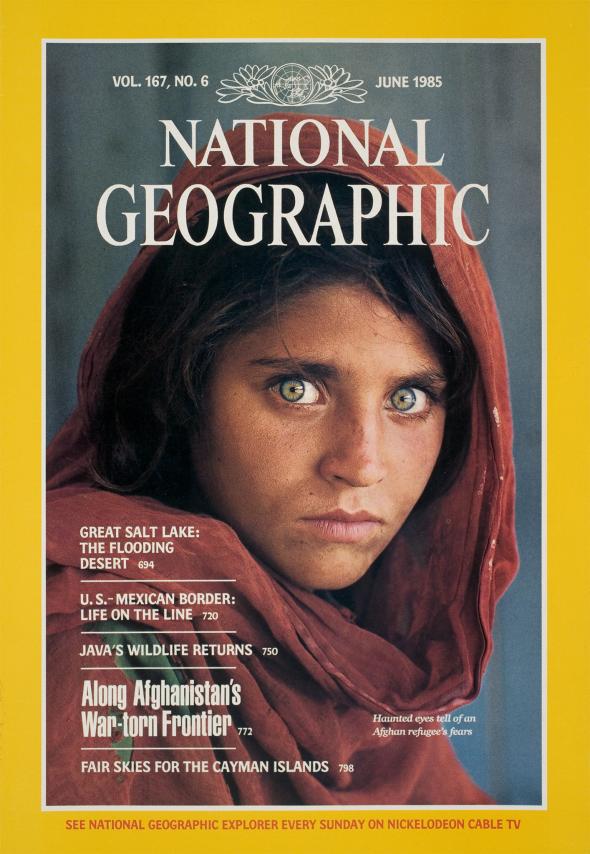 This image shot by photographer Steve McCurry is perhaps the most recognisable Nartional Geographic cover of all time. Whilst visiting a refugee camp near Peshawar, in Pakistan, Steve was saw a 12-year-old girl with haunting green eyes. He quickly took two shots of her for the June 1985 cover story "Along Afghanistan's War-torn Frontier", praying that they would come out.

The cover was incredibly successful, and after appearing on the magazine, this bright eyed 12-year-old became known as "the Afghan girl."

"I didn't think the photograph of the girl would be different from anything else I shot that day." Steve said to the National Geographic. However, this photograph became perhaps the most stunning cover the magazine has ever printed!

April 2002 – Found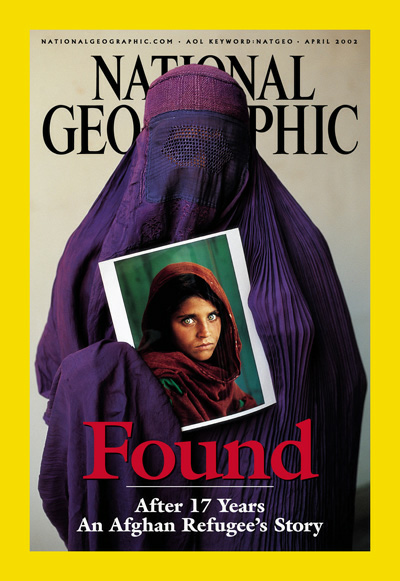 Incredibly, Steve found "the Afghan girl" again in 2002, living back in Afghanistan and asked if he could take her photo for a second time. Her name, readers learned, was Sharbat Gula. She had since married and had three children, but she still remembered the day Steve had taken her portrait.

September 1992 - Dolphins in Crisis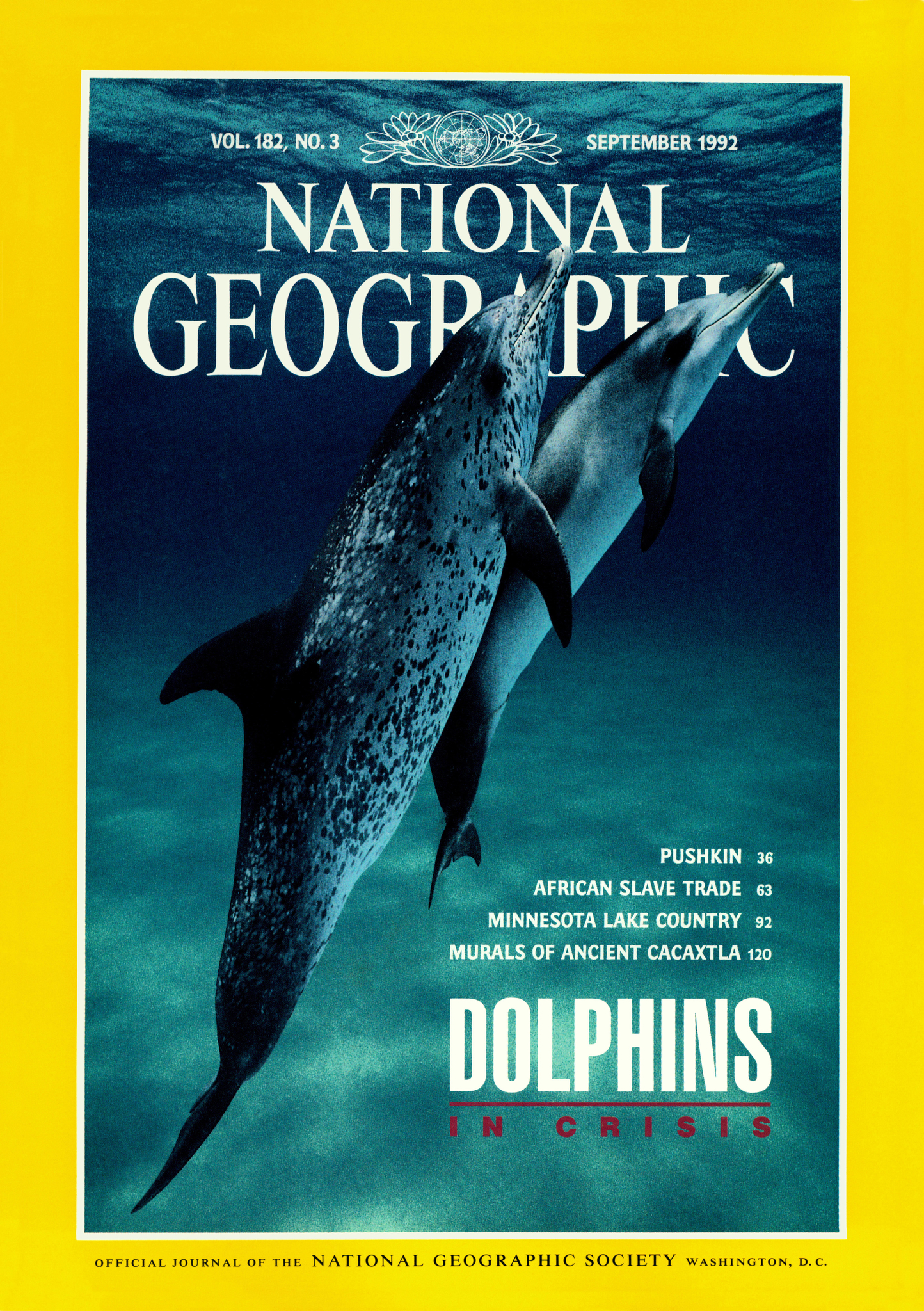 In 1992, a beautiful pair of Atlantic Spotted Dolphins were captured in the clear waters of the Bahamas by Flip Nicklen. The decade before the cover shot and accompanying article were printed, millions of marine mammals had been devastatingly drowned in nets or poisoned by polluted waters. Flip Nicklen's cover helped to raise public awareness about the atrocities of dolphin fishing, and water pollution.

April 2000 - Inside The Great White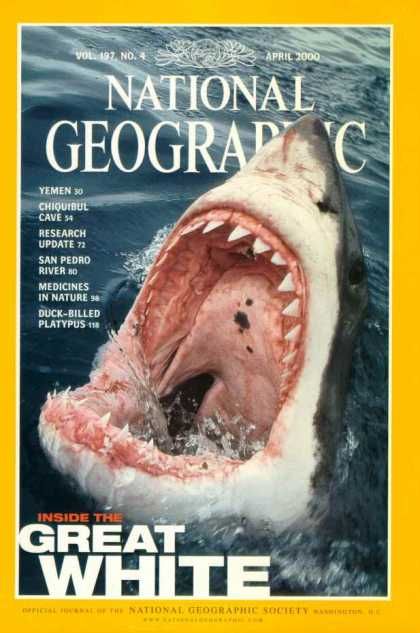 When Jaw's author Peter Benchley wrote his famous article for the National Geographic on the threats facing the surprisingly fragile Great White, a shot of one of these huge chomping predators only seemed right for the April 2000 cover. About 25 years after his box-office hit which terrified beach goers across the world, Peter and the photographer David Doubilet tried to portray the vulnerability of these great ocean hunters.

August 2009 - The Hot Spring of Yellowstone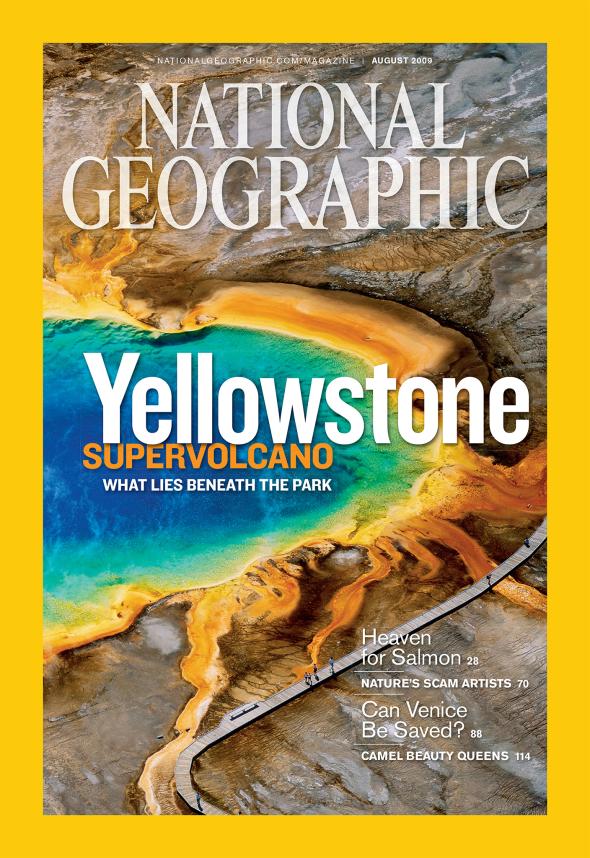 For this cover, the photographer George Steinmetz had to stand on the skids of a helicopter to capture the Grand Prismatic Spring at Yellowstone National Park.

"I get kind of fearless with a camera," Steinmetz told National Geographic Proof. His fearlessness paid off, as his stunning photograph made it onto the cover of the August 2009 issue.


October 2009 - Tallest Trees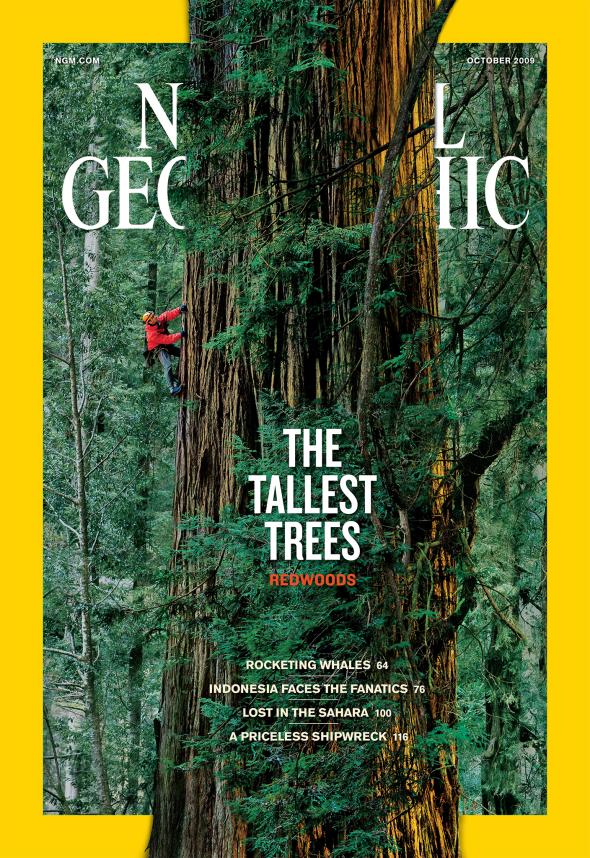 The world's tallest tress are by no means easy to photograph. It took the photographer Michael Nichols three weeks, 84 images, and a rope-and-pulley system in order to make this October 2009 cover.

The giant tree in question was 300 feet (91 meters) tall and 1,500 years old. Michael had to combine his camera with a pulley system rigged between neighbouring trees. He then shot the photos remotely from his laptop.

The 84 shots picked were then stitched into a composite image for a pullout gatefold on the October 2009 cover. Three years later, Michael photographed another tall tree for the December 2012 cover: a 3,200-year-old redwood tree called the President.

To get your own copies of The National Geographic's iconic covers, subscribe and save up to 68%.


Images © National Geographic Magazine.