Gorillaz are back, and to mark their return Q magazine has commissioned a very special cover by Jamie Hewlett.
The issue come ahead of the caustic cartoon characters' new album, Humanz, and also features Damon Albarn's first interview in two years.
Commenting on the album, the Blur frontman reveals: "The three tenents for this record were pain, joy, urgency. I told everyone to imagine you're in America after the inauguration and it's the worst case scenario: how would you feel that night? Let's make a party record about the world going f**king nuts."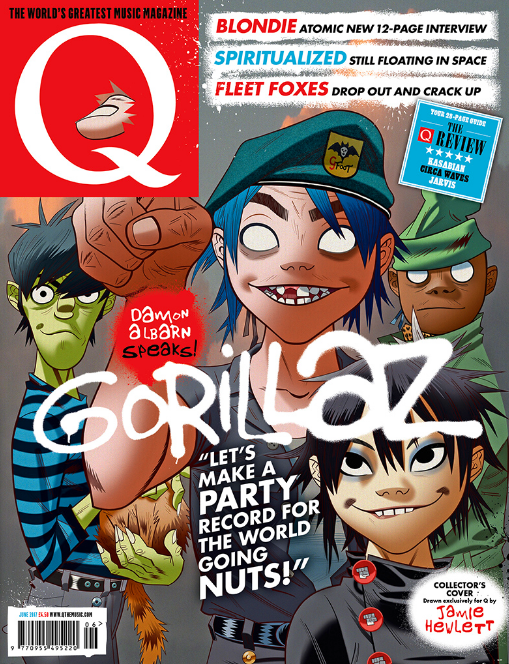 "It's amazing what you can do when your band members aren't real people," adds Jamie. "These characters are a conduit for everything we want to say but if we got up and said it, it wouldn't have the same impact. Humanz is not a political statement about Trump – it's a world in which he could get elected. Where are we as a race? Why haven't we grown out of this? Putting a 'z' on the end is not a hip-hop statement, it's more like an android Z. Are we human beings or just humanz?"
The pair also discuss their epic fall out which almost ended the band permanently, and their subsequent reconciliation which happened while the pair were both drunk after a Blur gig.
Speaking exclusively to Q, Damon explained: "He basically left and I felt upset by that. There was a fallow period in our relationship." He went on, "I've had the same experience with Graham (Coxon) over the years. I get the sense that sometimes people like getting off my steamroller and doing their own thing for a while and then joining me further down the road."
To read the full interview with Damon and Jamie subscribe to Q for a 23% saving off cover price.