Hot Cross buns are traditionally eaten on Good Friday with lashings of butter….however why not spice things up a little with these spiced chocolate and orange hot cross buns. We are sure they will be a hit for all the family, this Easter!

Here's a list of what you will need:
475g strong white flour, plus extra for dusting
25g good-quality cocoa powder
85g chilled unsalted butter, chopped
100g golden caster sugar, plus 50g extra to glaze
2 x 7g sachets dried yeast
1 tbsp vegetable oil, plus extra for greasing
75g milk chocolate, chopped
Finely grated zest and juice of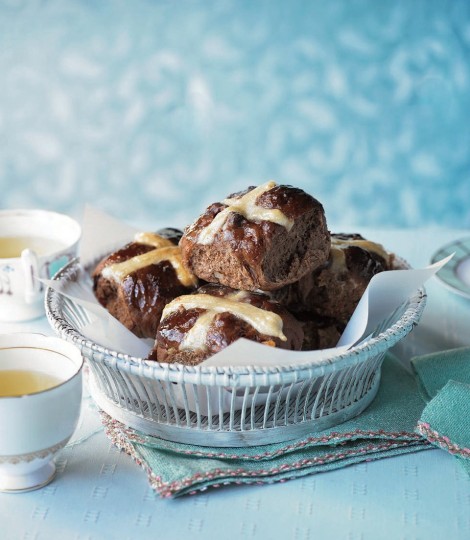 Step one: Sift 400g of the flour, the cocoa powder, mixed spice and salt into a bowl. Add the butter and, with your fingertips, rub together until the mix resembles fine breadcrumbs. Stir through the sugar and dried yeast, then form a well in the centre. Whisk the egg and milk together and pour into the well. Quickly mix with a wooden spoon to incorporate.

Step two: Knead on a lightly floured surface for 10 minutes until soft and silky. Shape into a ball. Put in a large, lightly oiled bowl, covered with cling film. Leave for 1½ hours in a warm place, loosely covered with greased cling film, until doubled in size.

Step Three: Remove the risen dough to a lightly floured surface, flatten slightly, then knead in the raisins (optional), chocolate, zest and candied peel, until everything is evenly distributed.

Step Four: Divide into 12 equal pieces (about 100g each) and shape into smooth-surfaced buns. Place in rows on a lightly oiled baking tray, leaving a little gap between each. Cover loosely with lightly oiled cling film and leave to prove in a warm place for 1 hour or until doubled in size again. The buns should now be touching each other. Preheat the oven to 200°C/fan180°C/gas 6.

Step Five: With a serrated knife, score the tops of the buns with a cross. Mix the remaining 75g flour with 1 tbsp oil and 5 tbsp cold water to a smooth paste, then spoon into a piping bag (or a small, clear, sturdy plastic bag with the corner snipped off).

Step Six: Carefully pipe the mixture in lines along the knife scores on the buns, going first one way, then the other, using a knife to stop the flow. Bake in the oven for 20 minutes until risen and firm to the touch.

Step Seven: Meanwhile, put the remaining sugar into a pan with the orange juice. Put over a low heat until it has dissolved. Bring to the boil and bubble for 2 minutes until thickened.

Step Eight: Remove the buns from the oven and turn out onto a rack. Glaze with the syrup and serve warm or cold.

Enjoy!

For cooking inspiration all year round, subscribe to Delicious magazine and save 63% off the cover price.