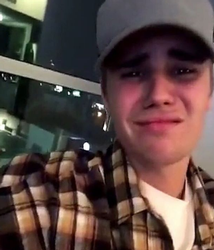 Justin Bieber's had a hard time of late – from cancelling meet and greets to falling over on stage a lot. But after a brief altercation with ex Selena Gomez over fan abuse directed at his current girlfriend Sofia Richie, the Canadian songster has taking the unprecedented step of deleting his entire Instagram amount, leaving Beliebers bereft of their star's social media presence.


After telling fans he would make his account private if fans didn't "stop the hate," Justin's celeb ex Selena got involved, telling Bieber that "if you can't handle the hate then stop posting pictures of your girlfriend – it should be special between you two only." She added: "Don't be mad at your fans. They love you and supported you before anyone ever did."


After some back-and-forth, where Selena countered Justin's accusation of her using him with the hint that Biebs may well have been unfaithful during their 3-year-long on-and-off relationship, Bieber deleted his Instagram completely, leaving his 78 million followers in the dark.


Will Biebs return to the Instagram fold soon? Or will the feeling be that reneging on his unexpected exit will make no sense? Either way, things between Bieber and Selena appear to be at all time low…

For more insight into all your favourite celebrity squabbles, grab a subsctiption to Shout magazine...