As the new contestants arrived at The Great British Bake Off's baking tent last night, the pressure-cooker atmosphere was palpable! Before they had even entered, one admitted to having "crazy dreams about cakes chasing me", while another said: "I have shouted at a pie."

Despite Jane Beedle's nerves, the 61-year-old garden designer from Beckenham earned this season's first star baker accolade. Banker Selasi Gbormittah, 30, and teaching assistant Benjamina Ebuehi, 23, weren't far behind. These three new bakers are the ones to watch!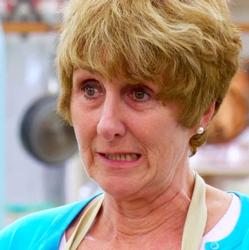 Things didn't go so well for Reverend Lee Banfield, a 67-year-old pastor and former builder from Bolton. His technical challenge flopped, as he failed to produce a plate of Jaffa Cakes. Sadly, he had to take his lumpy chocolate covered cakes home after he was eliminated.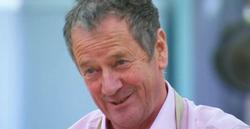 The biggest insult of the episode was aimed at Kat Barmby. For the showstopper challenge, she decorated her glazed mirror cake with birds, inspired by swallows living in a barn where she got married (long story). However, Paul Hollywood thought that the swallows 'look a bit like penguins on the sea'. 'Blue is not usually a good colour for icing,' he advised Kat, and the shocked viewers at home.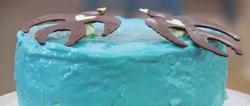 Mary Berry, on the other hand, aimed her criticism at Michael Georgiou and his green matcha tea-flavoured sponge. Mary announced 'I don't really like the flavour. It is grassy to me'.

In spite of last night's struggles, tears, and failed cakes, the seventh series of the Great British Bake Off has yet to live-up to the dramatic culinary catastrophes of previous Bake Offs.

Do you remember these six caketastrophes?

#bingate
Series 5 – 2014
When Women's Institute member, Diana Beard, removed Iain Watter's Baked Alaska from the freezer on a 30-degree day, all baking hell broke loose! After finding the soggy remains of his gateau, Iain lost his cool (much like his dessert), and threw the melted mess into the bin. Iain then stormed out of the tent, returning with nothing to present to Mary and Paul. Unsurprisingly, the unimpressed baking judges gave Iain the boot, but the viewers who had witnessed the baking crime were outraged. Quickly, the hashtag 'Justice for Iain' began trending on Twitter, and the BBC even had to issue a statement on the dessert debacle after receiving complaints from furious GBBO fans.



#custardgate
Series 4 - 2013
Iain's unfortunate ice-cream incident was not GBBO's first culinary crime. In Series four, Deborah Manger accidentally stole Howard Middleton's 'creme anglaise' from their shared fridge. In this 'crime anglaise' Deborah used the superior custard for her own trifle, and many viewers accused the apologetic baker of sabotage!
Luckily, the kind-natured Howard dealt with the trifle trouble well, and there was no need for poor Deborah to be taken into 'custardy'.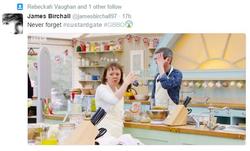 Collapsed Gateau
Series 6 - 2015
Series six of GBBO saw Dorret Conway's cake crumble at the knees, just like Tamal Ray's swooning admirers. With his sweet cakes and charm, Tamal won the hearts of many Bake Off fans in last year's show. Then, when Dorret's Black Forest Gateau collapsed, twitter users began to compare their melting hearts to Dorret's melting tart.
Tamal was flattered, if not a little embarrassed, about his new heartthrob status. 'Also glad my folks aren't on twitter! #GBBO #blushingbaker', he tweeted. Then just a few weeks later, Tamal revealed he was gay, shocking sweet-toothed women across the country.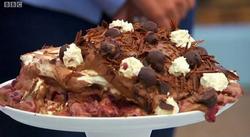 Salt and Tragedy
Series 3 – 2012
John Waite was kicking himself after he using salt instead of sugar for his rum babas. Paul Hollywood was so disgusted by the disastrous desert that he actually spat it out! Despite his salty catastrophe, John managed to whisk his way to success, becoming crowned Series three's Great British Baker!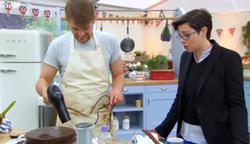 Measuring Mayhem
Series 4 - 2013
In series four, Francis Quinn learned that it's never a good idea to let GBBO presenter Mel Giedroyc measure your malted milks. Mel's measuring quickly sent the contestant's biscuit tower tumbling, as worried viewers watched agasp.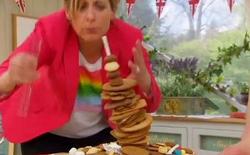 Squashed Tarts
Series 4 - 2013
Sue Perkins also accidently ruined some of a contestant's creations, after making herself comfortable on Howard Middleton's egg-custard tarts! First Deborah's custard theft, and then Sue's absent mindedness, poor Howard's custard karma took a hit in series four.

To stay up to date with the Great British Bake Off's kitchen drama, subscribe to the RadioTimes Magazine and save up to 40%.


Images ©BBC, @great_british_bake_off, @britishbakeoff, @jamesbirchall97.