Before he flew off the rails, American wild child actor Charlie Sheen was once the highest paid TV star in the world thanks to his role in the US show Anger Management. He has struggled to get work after being sacked from his main role in the hit series Two And A Half Men; Charlie's substance abuse and difficult behaviour called time on the role.




For his TV comeback, Charlie has recently revealed that he would like to join the UK cast of EastEnders: "A British soap opera set in London sounds great. I'd love that... How can I make that happen?"

The favourite UK soap has previously cast other famous names in order to keep viewers interested. Recently, Richard Blackwood, Bonnie Langford and Denise Welch all appeared on the show. But Charlie's appearance would definitely increase interest in the show, as EastEnders have yet to land an A-list star.

Charlie isn't the only Hollywood actor interested in an EastEnders cameo - recently Benedict Cumberbatch also said that he would like a drink or two at the Queen Vic!

Charlie's life itself is much like a TV drama; he has been arrested on various criminal charges, and has spent time in rehab to control his alcohol and drug use. Last year, he opened up about being HIV positive, and he has always been daringly honest about his many sexual encounters.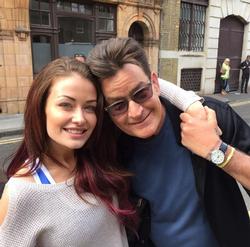 A source told the Daily Star: "If anyone knows about drama, it's Charlie… His life is just as sensational as any soap. If he wants to be taken seriously as an actor, there's no place better to prove yourself than a soap because it's hard work and emotionally draining."

While waiting to hear official announcements about Charlie's appearance, EastEnders will see another new face in the Albert Square later this month. The arrival of Jenny Coker, Paul Coker's estranged mother, will shock Paul's grandparents Pam and Les Coker, who immediately ask her to leave. Amy Marston's character will face a dramatic and unwelcome arrival.

To make sure you never miss an episode of EastEnders, grab a subscription to the Radio Times Magazine and save up to 40%.

Images @charliesheen @AngerMgmtFX