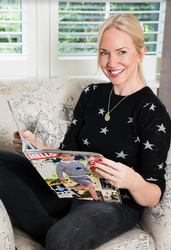 What is the best part of being Editor-in-Chief of HELLO!?

Being a weekly magazine and now available on so many different platforms: the website, social media and all our digital editions, and also our monthly magazine, HELLO! Fashion Monthly, there is never a dull moment! But it's not just about producing a weekly magazine, it's about having great stories that go up throughout the day, every day, and I love the challenge of no two weeks ever being the same. HELLO! is very reactive to news stories as well as being known for our big world exclusives, so there is a constant challenge to keep up with everything that's going on, whilst producing our own material. It's fast paced and that's one of the things I like most about my job.

Why do you think people are still so excited about buying magazines, when up-to-the-minute, online content is so readily available these days?

Nothing can quite replace the feeling of holding a magazine in your hands. We do find that with occasions like the Duke and Duchess of Cambridge's recent Royal Tour of Canada - people look to HELLO! to show all of those big, glossy full-colour photos, in one place. The newspapers cover it, online report it as things happen, but we take a closer look and perhaps a different angle. We also go into greater detail, for example, as part of our coverage we focused on the minutiae of everything the Duchess of Cambridge wore during the tour. There is still an insatiable appetite for everything she does – and wears.

Also, people look to print for an escape from screen time. I think we've become so glued to our phones and screens that it's quite nice when you're at the hairdressers, or have five minutes to relax on the sofa or in bed at night, to hold a magazine in your hands – it changes the pace of how you consume media.

Hello! is renowned for its coverage of The Royal Family, do you consider it a privilege to have access to their milestone moments?

It's a huge privilege. We know that HELLO! is read by senior members of the Royal family and it was important that our Royal Correspondent was on the tour with the Cambridge family, seeing everything unfold first hand. No other title reports on the Royals in quite the same way.

The young Royals are having a real moment right now. Prince George and Princess Charlotte are probably our youngest and most popular cover stars and there is a huge interest in everything they do. We loved seeing Princess Charlotte take her first steps and speak in public recently – and HELLO! provides the vehicle to show those adorable, seminal moments in full.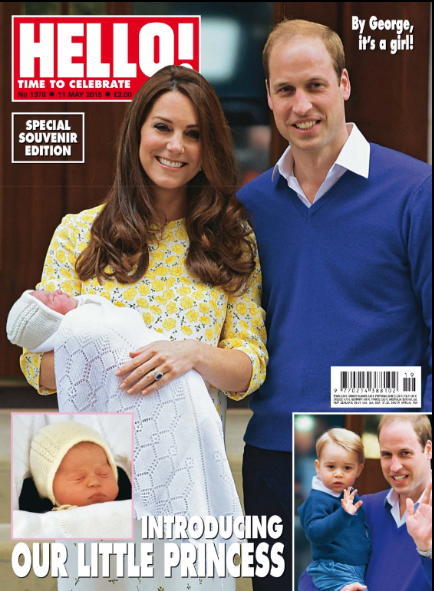 What are the challenges of being a magazine editor?
The thing that I love is also the thing that can sometimes exhaust me, which is that you have to constantly be 'on'. So many different aspects of the business report to me now, so there's always something going on - whether it's a breaking news story on a Sunday or working on the cover of the weekly magazine which goes to press on a Friday evening - so that's very challenging. Also, finding new ways and new revenue streams because, although HELLO!'s print sales remain buoyant, you can't become complacent – there are always new possibilities and ways of engaging new technologies and platforms to feed the appetite of our readers. Today's consumer wants variety and brands have to react. For example, we're doing lots of Facebook Live chats with stars at the moment, which we're finding incredibly popular. Likewise, for the Royal Tour, our journalist was not just reporting for the magazine, but also video content for the UK and all our editions around the world. HELLO! is an international publication and our reach is huge, but that means engaging all different types of media on any one story.

The pressures of delivering high-quality content on a weekly basis must be immense, how do you ensure HELLO! maintains the standards we have come to expect from one of Britain's best-loved magazines?

Yes, it's full on, but it's also great fun. At the end of the day we're not finding a cure for cancer here, we're producing a glossy magazine to entertain our readership; to take people out of the humdrum and stresses of life and to entertain them for an hour or two. So that's something I always have to remember: there needs to be an element of glamour and escapism within the pages, and that's something always in mind when we're producing it. Accuracy and high quality photography and reporting is paramount to HELLO! and we have a brilliant and experienced team who turn around unrivalled features every week.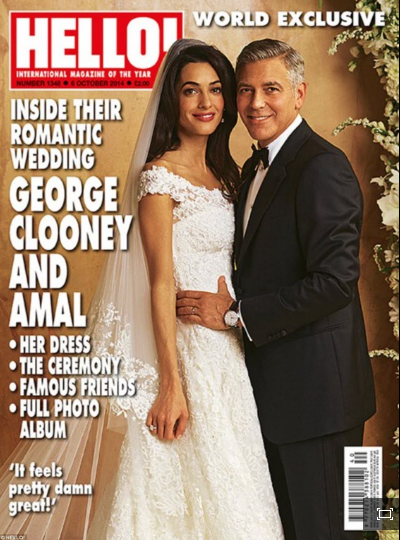 What is your proudest moment as editor?
There have been many actually, because we like to think of ourselves as the magazine of record, almost a snapshot of history. You can look back at editions of HELLO! and see who were the movers and shakers of the day and what were the big stories and fashions, so it's always really exciting when we're covering an important national event. I remember the wedding of the Duke and Duchess of Cambridge in 2011 was an incredibly exciting time. It was a busy day in the HELLO! office - we worked for 24 hours - and I left at 6 am feeling half delirious but on a real high. We had journalists out on the street, in Westminster Abbey, and when the pictures came in we had to be very decisive, picking the best, most iconic images quickly and putting together a huge, souvenir edition that went to press and was on sale some 24 hours later. It's great when there's an event like that happening, and I know it's going to be a late night, it will be all hands on deck, but we're going to get through it together, appearing on the newsstand with something really special for our readers.

HELLO! really is in a class of its own when it comes to Royal access…

We've been going for 28 years in the UK, launching in 1988, and in the first issue we had an exclusive with Princess Anne at home in her private apartments in Buckingham palace, and since then our USP has never changed. Where other magazines leave you on the doorstep, we take you inside the lives of the rich and the famous, and trusting relationships we have built with personalities, agents and PRs is something that can't be won overnight. So it's a very close relationship and one that has stood the test of time.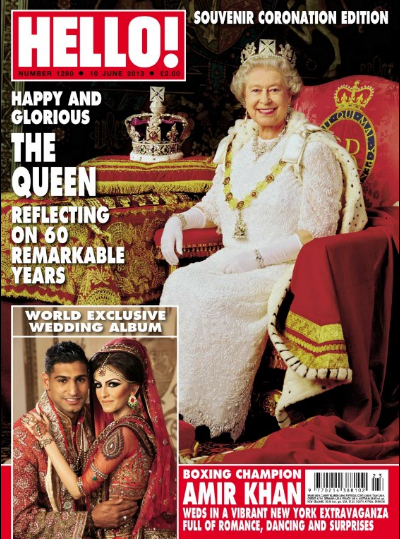 What is your favourite way to relax once an issue is completed?

A few months ago, I returned from maternity leave with my second child, during which time I completed my second novel. My first novel, The Stylist, is out now and creative writing has been a wonderful outlet for me. My books are set in the world of fashion and celebrity and have been great fun to write. Now I'm back at work full time, and with two children under the age of three, there's not much spare time in my household – it's busy constantly! As every working mother knows, getting the balance right is a constant challenge. So an early night in a quiet house is probably my favourite way to relax these days. And a Sunday lie-in is the ultimate treat!

What can subscribers expect from future issues? Why subscribe?

HELLO! will always be here. We're the magazine of record and provide everything you need in one place to tell you who are the people on the news agenda today, what are the fashions, take you inside the best weddings, homes and parties and who are the true talents that you need to know about right now. To have that delivered to your door or device every week is a real treat, and bit of luxury, for only £2. Bargain!

To be the first to see every Royal exclusive subscribe to HELLO!