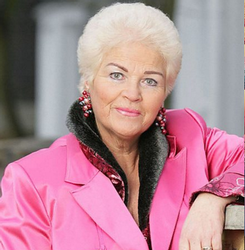 Reports are circulating that Eastenders' favourite Pat Butcher will be briefly returning to the soap as Dame Barbara Windsor's much loved Peggy Mitchell prepares to film her final scenes on Albert Square. The Sun have reported that Pat, played by 73-year old actress Pam St Clement, will be brought back four years after her character's death as part of Peggy's dying moments.
Peggy's farewell has heralded a possible return for many of the soap's former stars, with Ross Kemp and Daniella Westbrook apparently also earmarked to revisit their characters of Grant and Sam Mitchell.
It's St Clement's Pat, however, that fans will be itching to see. Having appeared in the soap from 1986 to 2012, Pat was a firm favourite with viewers. She was also the long-term sparring partner to Windsor's formidable Mrs Mitchell, having had an affair with Peggy's husband Frank Butcher.
Known for her exuberantly decorative earrings, Pat's return will be a welcome addition to Peggy's final scenes - which are shaping up to be the end of an era for fans of Eastenders everywhere.
You can catch up with Pat's possible appearance, and soap news in general, with a subscription to OK! Magazine - now with up to 52% off.
Image courstesy of bbc.co.uk