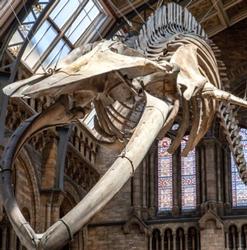 He was one of London's Natural History Museum's biggest draws, but the much-loved diplodocus skeleton – affectionately nicknamed 'Dippy' – has now officially left the building. It's replacement is 'Hope', a 126-year-old blue whale skeleton that staff have spent months preparing to be hung from the iron girders that support the ceiling in the Waterhouse building's Hintze Hall.

The 25m long skeleton, which weighs around 3 tonnes, first arrived at the museum in 1892 before going on display in the museum's mammals gallery in 1938. It is thought that 'Hope' will be symbolic of the museum's commitment to living science - and to represent the fact that blue whales are now making a recovery following decades of human exploitation that nearly drove them out of existence.

"I was absolutely blown away," Richard Sabin, the museum's principal curator of mammals, told BBC News about the moment he first saw the skeleton. "I remember running up the stairs to the balcony and asking an attendant if the whale skeletons in the gallery were real. And she said 'yes, and not only that you can still see these animals in the ocean today'.

"I got home and the very next day I headed down to the public library to try to find as many books as I could on whales. It was, to coin a phase, a defining moment."

The BBC was given exclusive access to the whole process, and a Horizon documentary, narrated by Sir David Attenborough, will go out on BBC Two at 21:00 BST on Thursday. The film will air at about the same time as the NHM's patron, the Duchess of Cambridge, and Sir David, inaugurate the new exhibit at a gala reception.

Fans of Dippy, however, should not despair. After the dinosaur's two-year tour of Britain, it will return to a make-over of its own. The skeleton, which is actually only a plaster cast, will be fashioned again in bronze and placed in the east garden in front of the museum.

If you want to know more about living science, grab a subscription to BBC Wildlife – and save up to 23% off today.