The Queen's 90th birthday celebrations begin today, but another national treasure reaching their ninetieth this year is globally acclaimed naturalist and broadcaster Sir David Attenborough. In a stunning coincidence, the BBC archives have recently unearthed six hours of footage from Attenborough's very first show, the 1950s series Zoo Quest, shot in stunning colour. These episodes are due to air later this year to mark the great man's birthday.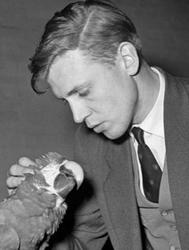 Zoo Quest, which ran for nine years and brought never-before-filmed wildlife straight to British television sets, was never supposed to have been filmed in colour, with even the venerable broadcaster himself believing the entire series was shot in monochrome.

"I was astonished when someone said we've got nearly all the film of the first three expeditions you did in colour," Attenborough revealed, "I said, 'it's impossible, we shot in black and white'."

Miles Barton, Attenborough filmmaking partner, was equally surprised: "The most experienced archive researcher who's been here 30 years didn't know about them. They were uncatalogued and unlabelled. I find it unbelievable myself; I was totally amazed."

The special programme - which will be broadcast three days after Sir David's birthday - is part of a week of programming to celebrate Sir David's landmark birthday. Other shows to be screened include Attenborough's Passion Projects, featuring Sir David's four favourite films from his catalogue of work, as well as a BBC One celebratory special Attenborough at 90, where presenter Kirsty Young will interview him about his life and career.

For more information on Attenborough's anniversary exploits, grab a subscription to BBC Wildlife magazine - now with up to 21% off.