Neville, Marc's beloved pooch has full run of the fashion superstar's glamorous Art Deco and 70s inspired home.

Purchased in 2009 for himself and his then-fiancé, Lorenzo Martone, it was just a sparse empty space until Marc oversaw it's build-out and decoration. Marc worked with the famous interior designers Paul Fortune, John Gachot, and Thad Hayes on his Greenwich Village townhouse.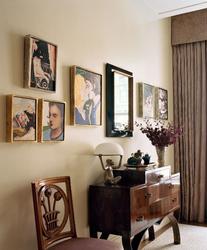 Known for his outlandish style, behaviour, and jet-setting, one would expect his home to be extravagant. However, it is impeccably curated with an air of old-school chic… Think Yves Saint Laurent's Paris apartment. It's a four-flower splendour of sophisticated glamour.

"I'm not big on having a particular concept or look," Marc told Architectural Digest. "I just want to live with things I genuinely love—great Art Deco furniture, pieces from the '70s, and contemporary art. But I didn't want the house to feel like a pristine gallery or a Deco stage set—just something smart, sharp, and comfortable."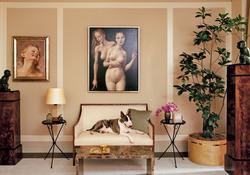 Marc has an envy-inducing art collection. The master bedroom alone boasts six paintings by John Currin, a pair of bronze François-Xavier Lalanne monkeys, two Dominique armchairs covered in a Holly Hunt fabric, and an Alberto Giacometti floor lamp.

The pair of bronze monkeys by Lalanne present in the designer's bedroom. "I saw them in a picture in Vogue, and I became fixated. I had to have them," Marc remembered. "I called Paul Kasmin Gallery, I called Sotheby's, and eventually I called [art collector and Warhol superstar] Jane Holzer. She introduced me to the Lalannes in Paris, and she found me the monkeys."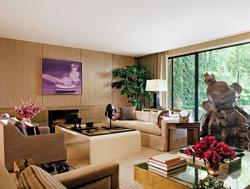 Despite the apartment's sophistication, Marc's rebellious style is still subtly present. John Gachot of Gachot Studios, Marc's long-term friend and collaborator recalled: "One day Marc announced that he'd bought a giant sculpture of Dopey from Paul McCarthy's 'White Snow' series. The only place we could park it was in the television room, which was basically finished at that point. So we closed the street and craned the thing in through the back. You do what you have to do".

"The television room was so perfect that I felt it needed something to disrupt all that order and refinement," Jacobs explained. "But I'm not interested in wacky juxtapositions for the sake of wackiness."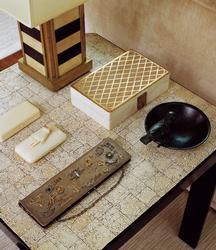 For more images and information on Marc Jacob's home, subscribe to Architectural Digest Magazine.


Image © Architectural Digest.