What better way to celebrate one's centennial than to construct an entire world devoted to you? That's what fashion magazine Vogue will be doing this May for their yearly Vogue festival. Held on May 21-22nd the magazine will construct a Vogue World on the East Albert Lawn of Kensington Gardens in London, providing attendees a fully immersive experience.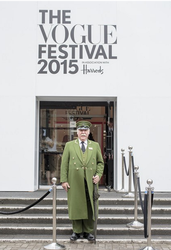 "This is an exceptional year for British Vogue and we are planning a wonderful festival to celebrate our 100 years," said Vogue editor-in-chief Alexandra Shulman. "Harrods is helping us to create a two-day event unlike any other, allowing the general public access to the talents and expertise of the world of Vogue."


The two-day extravaganza will feature an extensive schedule of events; talks and activities to sign up to including workshops, makeovers, career masterclasses and super tutorials - not to mention interviews with the biggest names in the fashion industry. The Vogue Café and Vogue Shop will also open their doors to sell limited-edition Vogue-branded products, as well as nutritious treats to keep budding fashionistas well-fuelled.


Last year's impressive line-up of participants included Bobbi Brown, Alexa Chung, John Galliano, Jean Paul Gaultier, Charlotte Olympia and Olivier Rousteing and many other big-name, fashion insiders. London department store Harrods's fashion director, Helen David said: "Harrods has been synonymous with fashion for over 120 years and is home to the world's leading brands. We look forward to bringing elements of our luxury department store to life during what promises to be an engaging, innovative and inspiring weekend."

Tickets go on sale today, for more information visit Vogue.com - or grab a subscription to Vogue magazine, now with 38% off.