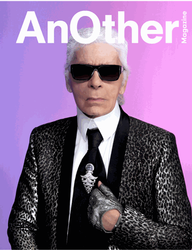 First look at the special-edition, holographic AnOther Magazine cover starring Chanel's chief, Karl Lagerfeld.Another Magazine had a 15th birthday to remember when king of fashion Karl Lagerfeld unveiled his hologram cover and cut a glorious, layered birthday cake.

The intimate party was held at the Chanel couture salon in Paris last night and AnOther Magazine Instagrammed a photo of Chanel's main man, wearing his trademark leather gloves and sunglasses, and the magazine's co-founder Jefferson Hack.There will only be 1000 handcrafted copies of the S/S16 Party issue available, running alongside the general release covers featuring Bjork, Kate Moss, Grimes and Kristen Stewart respectively.

The incredible, 3D moving image is accompanied by a 30-page profile of Karl Lagerfeld written by Susannah Frankel, along with an edit of the six Chanel runway collections of 2015, photographed by Colin Dodgson and styled by Katie Shillingford.

"Working with Karl was a joy," recalled Rob Munday, the holographer and artist who captured and created the image. "He was so open to the whole idea of being immortalised in 3D. He was fascinated by the medium and the technology and exclaimed several times when seeing the results that it was 'the future.'"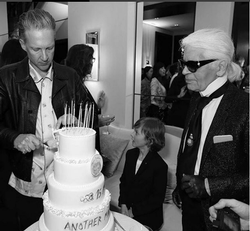 Munday took a sequence of 50 high-resolution images along a two metre track to record Lagerfeld from myriad different angles, before interlacing them into one special image that's then printed and laminated on the back of a lenticular lens. While some lenticular images can be mass-reproduced, the covers were each handmade, one by one, for the perfect result.

Fans of Lagerfeld's right-hand feline Choupette need not be disappointed either, for she is engraved in his diamond encrusted tie pin.


Instagram image courtesy @anothermagazine