The September Issue of British Vogue is, from front to back, the magazine's most important edition of 2019. Editor-in-Chief Edward Enninful is delighted to reveal Her Royal Highness, The Duchess of Sussex is the first person to guest edit The September Issue of British Vogue which is out on newsstands on 2nd August.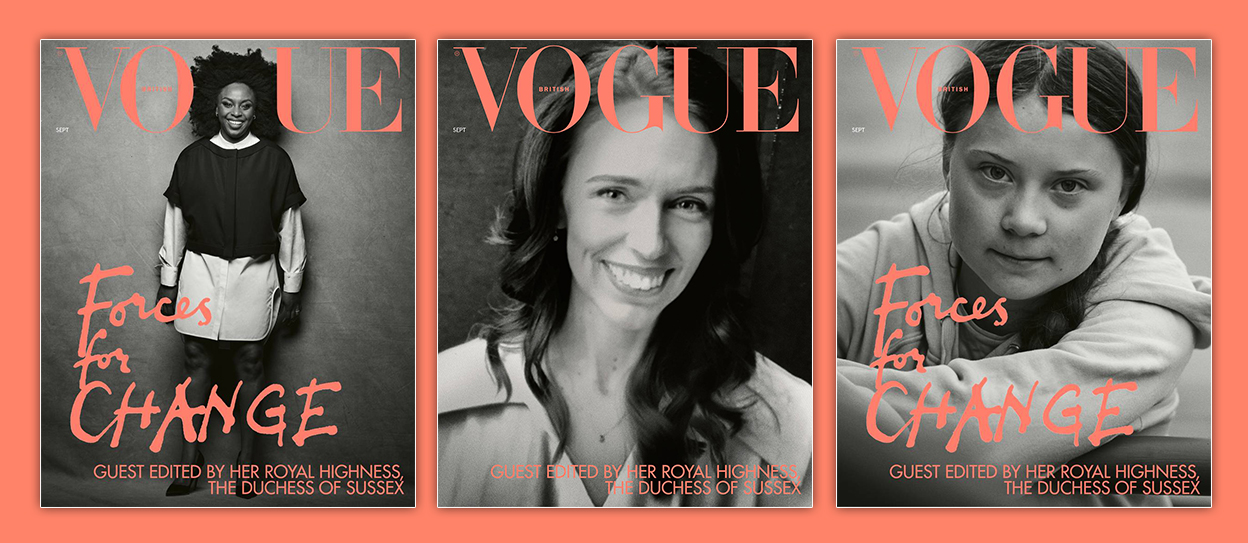 British Vogue proudly unveils the highly anticipated September Issue highlighting all the brilliant female changemakers who have had a laudable impact in recent times and who are set to reshape society in radical and positive ways in the future. From activists to artists, politicians to performers, poets to provocateurs, British Vogue and HRH The Duchess of Sussex have chosen women from the frontline of fashion, film, tech, wellness and beyond to celebrate a special moment in time, calling it 'Forces for Change'.


The theme of the issue selected by the duchess and Mr. Enninful — 'Forces for Change' — is written in blunt orange print across the front cover, which is made up of a montage of close-up portraits by the applauded fashion photographer Peter Lindbergh. The line-up comprises of the following;


- Campaigner & Actress Jane Fonda

- Mental Health Campaigner and model, Adwoa Aboah

- Former Refugee and Fashion Model, Adut Akech

- Climate change campaigner, Greta Thunberg

- Prime Minister of New Zealand, Jacinda Ardern

- Author and diversity activist, Sinéad Burke

- Former Refugee and Boxer, Ramla Ali

- Campaigner and Actress, Gemma Chan

- LGBTQIA+ Advocate & Actress/Producer, Laverne Cox

- Women's Rights Advocate, Actress/Producer, Salma Hayek Pinault

- Royal Ballet Principal Dancer, Francesca Hayward

- Body Positivity Advocate and Actress, Jameela Jamil

- Author, Chimamanda Ngozi Adichie

- Founder of Eighteen x 18 and Actress, Yara Shahidi

- Founder of Every Mother Counts & Model, Christy Turlington Burns

Together, these women are British Vogue's cover stars for September and the ultimate force for change in the world right now. The Duchess believes British Vogue's readers are part of this moment too - as a result, the 16th spot on the magazine's cover is a mirror to include the reader and encourage them to use their own platforms to effect change.


Subscribe to British Vogue today and save up to 39% off the cover price!