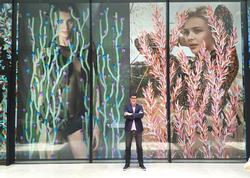 Fashion seems to love graffiti artists…they're rebellious, trendy and talented. Graffiti inspired clothes prints turn up everywhere, like Stephen Sprouse's neon-scribbled Louis Vuitton collection for example.


After his altered bus shelter ads, (includeding brands like Dior, J. Crew, and Balmain), were received by the industry with open arms, his Vogue covers have also been a huge success. His Vogue works are also the focus of his new show at the Danziger Gallery in Manhattan. De Feo admitted to Vogue US that he was "surprised" by how much the fashion elite has taken an interest in his work, but for him, after 25 years as a street artist, these ads and magazine covers allowed him "to experiment with areas I previously didn't have access to". It was just a natural, un-thought out, artistic progression.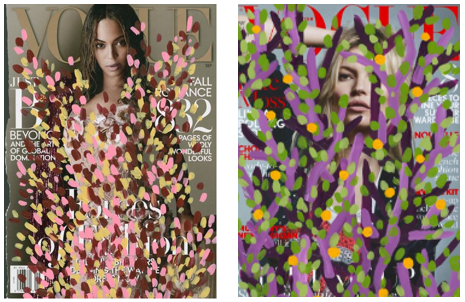 When talking about how he chose each of his international Vogue covers, De Feo said:
"I look for different things in the images I choose, but what I seek the most is an attraction to the photography and styling. I really want to be drawn into it. Sometimes just the status of the person featured is a driving element, as with Kate Middleton for the 100-year anniversary issue of British Vogue. There's Rihanna, Kate Moss, Taylor Swift, Kim Kardashian [West], and more."

De Feo's paint brush moves to follow composition or colour of each individual cover photo, from delicately stemmed flowers to thickly textured and bold brush strokes. What all of his work does share though, is a sense of beauty and fantasy not unlike fashion photography itself.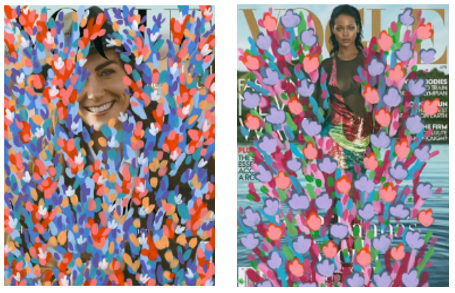 "Because I'm looking to marry my painting with the photography, I sometimes utilize the same colours I find in the image with my paint", he explained to Vogue US, "Some shots have movement or compositional elements that affect how I paint. Sometimes it's the fashion, as well—textural elements, et cetera. I never have a plan or know what I'm going to do. What I do is very improvisational."

To get your own hands on some inspirational fashion photography, subscribe to Vogue and save up to 38%.

Images @theflowerguy, http://www.mdefeo.com/