David Beckham is many things. A talented footballer? Yes. An impossibly handsome man? Of course. An actor? Umm…

Ever since a short clip of Golden Balls in his first movie role – as a gnarled knight in Guy Ritchie's King Arthur: Legend of the Sword – appeared online, the former Manchester United and Real Madrid midfielder has copped a fair amount of stick from fans online. Some have even suggested that perhaps Becks should have just stuck to the things he does best, kicking and looking pretty that is, than making his first foray into the world of Hollywood (the woefully inept and critically panned Goal franchise aside, of course).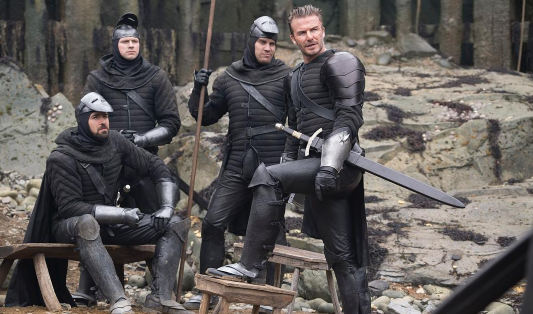 And now Beckham's friend director has leapt to the star's defence. Speaking at the movie's premiere, Guy Ritchie insisted that Becks was "a talented actor". After all, Beckham also showcases his thespian talents as a projectionist in the Guy Ritchie-directed Man From U.N.C.L.E.

The director then said he couldn't have been swayed to pop Becks in the film because of the former footballer's superstar status, with Ritchie making the completely believable claim that his kids "hadn't heard of" David Beckham. So there.

Becks, who turned 42 on 2nd May, then released a short clip of his time behind-the-scenes on King Arthur on his Instagram page, which detailed how the make-up department really did a number on his normally handsome visage via the medium of prosthetics.

For all the latest news and reviews from the film industry, grab a subscription to Empire – and save up to 30% off today.