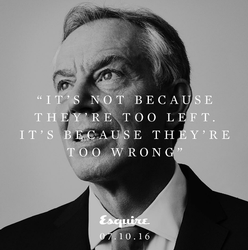 Former PM Tony Blair is Esquire's November cover star, and with the recent announcement that he was winding down his involvement in business consultancy, rumours that Blair may be considering a return to the frontline of UK politics are beginning to gather pace.

Describing his return as an "open question," Blair told Esquire that he was "very motivated" to challenge the Conservative government in post-Brexit Britain.

"I don't know if there's a role for me . . . there's a limit to what I want to say about my own position at this moment," he said. "All I can say is that this is where politics is at. Do I feel strongly about it? Yes, I do. Am I very motivated by that? Yes. Where do I go from here? What exactly do I do?"

When questioned over his support (or lack thereof) for the current Labour party under Corbyn, Blair said it was a question of "two different cultures in one organism."

"One culture is the culture of the Labour Party as a party of government. And that, historically, is why Labour was formed: to win representation in Parliament and ultimately to influence and to be the government of the country," he said. "The other culture is the ultra-left, which believes that the action on the street is as important as the action in Parliament."

"That culture has now taken the leadership of the Labour Party. It's a huge problem because they live in a world that is very, very remote from the way that broad mass of people really think."

To see more of Blair's interview, grab a subscription to Esquire - now with up to 44% off.

Instagram Image from @ukesquire