Eponymous skincare brand Estee Lauder was founded by one of the most incredible female entrepreneurs of the 20th century. What better collaboration then, than with Victoria Beckham, the popstar turned fashion designer turned global brand. Beckham took to Instagram to announce the limited edition make-up line which will launch in September.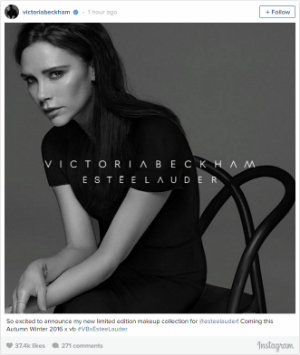 'I am thrilled to be launching this limited edition make-up collection with Estée Lauder,' she said. 'The whole process has been both inspiring and eye-opening - from going back and revisiting the Estée Lauder archives through to working on the product with the Estée team, this feels like the perfect make-up partnership for me and my brand. I had long admired Estée Lauder the woman, and the powerful brand that she created, so I am excited to offer both of our customers this make-up range and play a small part in her vision for women.'
Launching her Victoria Beckham fashion line in 2008, the 41-year-old has silenced her critics season after season with her sharp tailoring and classic designs. She has long spoken of her desire to move into beauty products and until now her only other collaboration was with Nails Inc in 2014. Little is known about the line, but we expect it will feature a nude lip palette and some dark, smoky eyeshadows for those wanting to emulate the ex-Spice Girl's signature look.
Jane Hertzmark Hudis, group president of the Estée Lauder Companies, said 'Victoria is an entreprenuer in the true spirit of our founder, Estée Lauder, with a real understanding of what women want, and a commitment to making women look and feel their most beautiful [...] We are delighted to welcome her into our brand.'
For a weekly fashion and beauty fix subscribe to Grazia
Images: @VictoriaBeckham Instagram