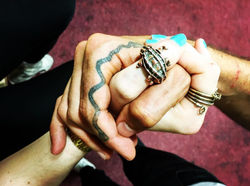 Russell Brand previously dated Jemima Khan, and later married Katy Perry for 14 months before splitting up with her in 2012 over text. The self-proclaimed sex addict has also been connected romantically with supermodel Kate Moss, Kurt Cobain's ex-wife Courtney Love, the former Spice Girl Geri Halliwell, and Australian actress Teresa Palmer.

Russell and Laura have previously dated. They ended their first romance in 2007, were romantically linked again in 2009, and then rekindled their love last year with a romantic weekend getaway in Rome, Italy.

Laura is said to be five months pregnant, and the love birds are making plans for a nursery at their luxury home in the village Aston, near Henley-on-Thames, Oxfordshire.

The famous womaniser has been taking fatherhood very seriously, attending pregnancy yoga classes with Laura, and practicing Buddhist meditation in order to strengthen their bond. Marriage seemed like the obvious next step for the pair. A source told the Sun that "as they are becoming parents, Russell wanted to do the right thing and make Laura his wife. She's delighted he asked".





The party was attended by Laura's famous TV presenter sister Kirsty Gallacher, and the actress Susie Amy. Kirsty and Susie made sure to Instagram photos of the event, the pair posing next to a giant tortoise called Turbo, who was also invited to the boho bash. Kirsty also posted a photo with her beautiful sister, congratulating her on the news.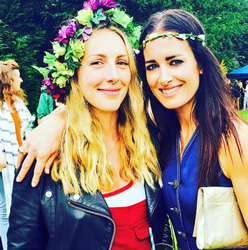 For all the latest on Russell and Laura's wedding plans, make sure you subscribe to Glamour and save up to 33%.

Images @trewrussellbrand @gallacherkirsty