With just 700m left in the Triathlon World Series in Mexico, it appeared that Jonny Brownlee had wrapped up the world title after grabbing Olympic silver at Rio in August. But then the heat of Mexico started to affect the Yorkshire-born athlete as he weaved and staggered across the track, appearing to be close to fainting.

Elder brother Alistair, gold medallist in Rio, caught up with his sibling, propping him up and physically pushing him over the line despite giving up his chance to claim the win – which eventually went to South Africa's Henri Schoeman.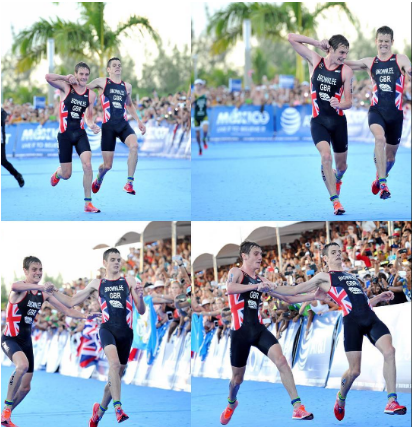 Jonny, who collapsed in a heap just centimetres over the finish line, was eventually taken to hospital, where he tweeted a picture of himself hooked up to a drip with the words "Normally when you have had too much to drink. This time it was the opposite #ouch"

Brother Alistair described his sibling's situation as "close to death", adding that his antics were a "natural reaction", but in true big brother style he still had some words of wisdom for young Jonny…

"I wish the flippin' idiot had paced it right and crossed the finish line first." Alistair said. "He could have jogged that last two kilometres and won the race."

If you're looking to get a head start in the world of triathlon, grab a subscription to Men's Running magazine – now with up to 54% off.