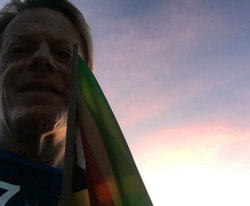 UPDATE: Izzard completed his gruelling double-marathon on Sunday - raising more than £1.35 million pounds for Sport Relief in the process. The comedian swigged from a celebratory bottle of sparkling white wine on finishing his double marathon, despite battling dehydration and heat exhaustion on the 707-mile route.

The money raised from Izzard's incredible feat of endurance was just part of a record-breaking £57 million raised for the charity as a whole - but for now, it's probably fair to just let Eddie enjoy a deserved rest!

Comedian, actor, activist and would-be national treasure, Eddie Izzard, is just four days away from completing his latest challenge to raise money for Sport Relief - running 27 marathons in 27 days across South Africa. Izzard is also running in memory of Nelson Mandela; the number 27 was chosen to reflect the number of years Mandela was imprisoned by the apartheid government.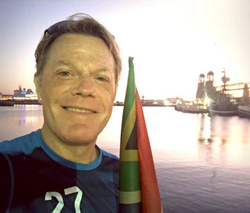 If you thought Izzard couldn't get tougher than that, it gets better (or worse, depending on how you feel about running).

Due to early medical complications during the endurance feat - Izzard was worried that he had a kidney problem - the 54-year-old will be attempting a double marathon this Sunday to end the event on time. This double marathon, completed in 12 or less is the longest Izzard has ever run.

"It's been tough as a bed of nails, but I am getting there," Izzard told the Wall Street Journal, "I am quite confident I can finish."

During his marathon effort, Izzard has encountered wildebeest, buffalo and a pride of 47 lions...not that any of that is going to stand in his way. Even the more traditional marathon problems seem to be bypassing him, and he believes his trademark nail varnish is going some way to combatting the scourge of blisters.

"Everything else is in pain, but actually my toenails are doing OK," he announced yesterday, "I'm not sure if it's what is making the difference, but in a weird way it seems to be helping – they're painted in Queen of Hearts Gelish."

With that sort of dedication, surely it can't be long before we're seeing Eddie in Great Marathon Runners magazine, now with 40% off, or being honoured in Buckingham Palace itself.



Images courtesy of @eddieizzard