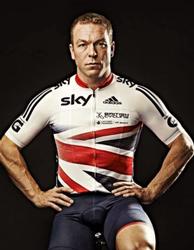 GQ have announced that one of Great Britain's most successful Olympic heroes, Sir Chris Hoy, has been appointed the title's cycling correspondent, and his first column is featured in the mag's August issue, on sale now.
"It's an honour to publish Sir Chris Hoy's work. He is not only a genuine legend, but a great writer too," said Dylan Jones, Editor of GQ. Each issue, Hoy will address a different biking predicament and his first column sees the cycling legend tackle a sartorial dilemma.
Hoy retired from competitive cycling in 2013 and his achievements throughout his career make him the first Briton since 1908 to win three gold medals in a single Olympic Games, and one of the most successful Olympic cyclists of all time.
Following his retirement, Hoy recently launched his own range HOY bikes, has published a series of children's books, become a polished public speaker and media presenter, and was a key part of the BBC's coverage of the 2016 Rio Olympics and 2014 Commonwealth Games in Glasgow."
For a chance to get your hands on a copy of Hoy's font of cycling knowledge, grab a subscription to GQ – and save up to 38% off today.