He's 43 years old, 6ft tall and 5,000lbs, likes to eat grass and roll around in the mud, and is truly one of a kind. Northern white rhino Sudan seems like a bit of a catch – but he's not having much luck with the ladies.

As the only surviving member of your species, you would be forgiven for feeling the pressure when it came to performing, and attempts to mate Sudan with the two female rhinos left have so far been unsuccessful. Now, scientists are hoping to raise around £8 million to develop an experimental method of IVF in order to save this rhino race.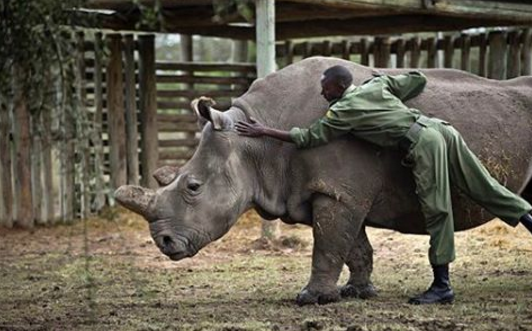 "It's never ever has been done in rhinos before," Richard Vigne, head of Kenya's Ol Pejeta Conservancy, told the BBC. "This is a 10-year programme to recover that species. We'll hopefully keep him alive as long as we can - but we are in a race against time if we are going to recover this species."

Tinder users who stumble across Sudan's profile can now donate to the scientific efforts to save the Northern white rhino – but with the "world's most eligible bachelor" now being 100 years old in rhino years, time is running out.

If you want to know more about conservation efforts around the world, grab a subscription to BBC Wildlife – and save up to 23% today.