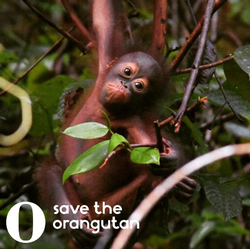 The incredible new BBC Earth magazine is finally here – and enclosed within its latest issue is a whole heap of insight into the fascinating world of Orangutans. BBC Earth aren't monkeying around, Orangutans are one of humanity's closest animal relatives, and the need to protect this beautiful and intelligent creature is growing with every passing year as the threat of deforestation hangs heavy over their natural habitat.

But although you're sure to have seen these Great Apes on the box at one point or another, when it comes to the intimate lives of these orange animals, did you know…

- That human beings and orangutans share over 97% of our DNA – that's right, you're cousins, so make sure to get that Christmas card over to Borneo ASAP…

- Orangutans have a jungle tool-box readily to hand – from using rocks to open fruit, making sponges out of pressed leaves and even using large waxy leaves as umbrellas for the frequent occasions when the rainforest lives up to its name!

- When stressed, orangutans love a bit of soothing aromatherapy – with rose oil being a particular favourite.

- One orangutan once indicated to researchers that it wanted a haircut – but whilst the humans were discussing what this meant for the species, the cheeky monkey used the distraction to steal some food!
If you want to delve deeper into the awesome jungle lives of these amazing animals, grab a subscription to BBC Earth now – and save up to 31%.

Instagram Images from @savetheorangutan_org