There is a saying, possibly, that goes along these lines: nothing good has ever come from purchasing Ugg boots. For one Australian woman, her desire for tanned and comfy footwear nearly landed her in a whole heap of trouble, as she discovered a 1 metre long, venomous, hungry and allegedly sex-mad snake in the bottom of her boot.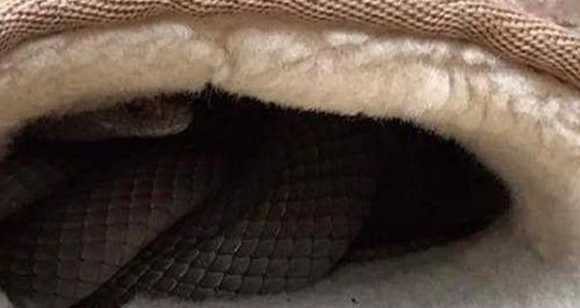 After an unseasonably long winter, the randy reptile had clearly deemed the soft woolly interior of the Ugg preferable to the outside world and, having been woken up by a shoeless lady, did not seem pleased. Of course, peeved eastern brown snakes are pretty high on the list of things you don't want to step on – the species are the second most venomous land-snake in the world.

Thankfully for this unlucky Ugg-lover, snake wrangler Rolly Burrell was on hand to extricate the slithery squatter from his comfy abode, an occurrence which he says tends to happen about once a year.

"They are all just starting to wake up from their sleep," he explained. "Their mating season has just started, so they're all horny and hungry."

Fortunately for the sex-starved serpent, he was safely released back into the wild and will hopefully go on to find a Mrs Eastern Brown with whom to settle down with…

If you need more info on how to house your own scaly friend, grab a subscription to Practical Reptile Keeping, and save up to 10%.