The quirky and brilliant artist enjoyed cult celebrity status in the 1980's as lead singer of Dead or Alive – who had a big hit with You Spin Me Round - and became later known for his stint on Celebrity Big Brother.
Among the tributes were long-time friends and fellow artist Boy George and several of his Big Brother housemates including the host of the show, Davina McCall.
Boy George tweeted: "Tearful about the passing of @PeteBurnsICON he was one of our great true eccentrics and such a big part of my life! Wow. Hard to believe!"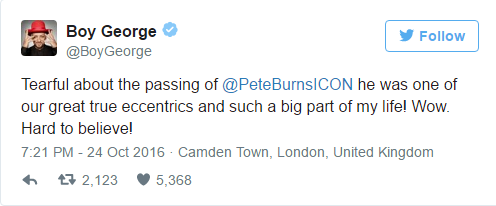 Soft Cell frontman Marc Almond tweeted that Burns was "a one-off creation, a fabulous, fantastic, brilliant creature and always sweet to me".
TV presenter Davina McCall wrote: "So so sad to hear about Pete Burns... we partied hard in the 90s... RIP Pete x".
Ordinary Boys frontman Preston, who also appeared on Celebrity Big Brother with Burns, said: "Heartbroken to hear about Pete Burns. He was a true punk rocker and one of the kindest hearts I've ever know. Gutted."
Politician George Galloway, who was on Celebrity Big Brother with Burns, tweeted this moving tribute: "Sad to hear of the demise of Pete Burns. He was a cross between Oscar Wilde and Dorothy Parker. You don't get more brilliant than that. RIP".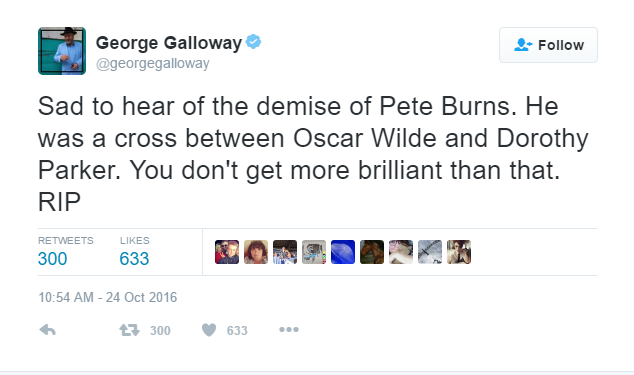 And finally the following statement from his management who announced the tragic news: "All of his family and friends are devastated by the loss of our special star."
"He was a true visionary, a beautiful talented soul, and he will be missed by all who loved and appreciated everything he was and all of the wonderful memories he has left us with."
If you still love to spin the sounds of the Eighties subscribe to Classic Pop