For two decades, Serena Williams has been a tennis wonder woman. Now she is preparing for the Summer Olympics, competing for her fifth Olympic gold medal! This Olympics is more important than ever for Serena however, as she will be playing with the world record for major wins in sight.

She has won an astonishing 71 singles championships, more than $77 million in prize money (the most ever for a female tennis player), and completed almost 1,000 career victories! "If I could grab one thing in a fire," Serena said to SELF, "it would be my gold medals."

The super disciplined player has a strict diet, training schedule and watches game tapes in order to keep her status as the number one player in the world. Not used to losing, Serena admitted that every match lost stings. "I usually beat myself up," she said. " 'Gosh, why did I lose that? I know I could have done better.' "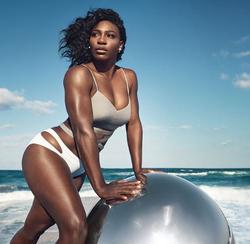 Looking ahead to the Olympics in a couple of week's time, Serena is focused and confident. "This is my heart," she said. "This is my blood. I live for this and have for the last 32 years. When I step out on the court, you're going to get all of me. It's going to be the summer of Serena… I know it."

Tennis is not Serena's only skill, she is also a fashion deigner and an amazing dancer! She has started her own dance team called the Kryptonians with some friends, and famously made a dance cameo in Beyoncé's hit visual album Lemonade. Her strength on the pitch also translates to her dancing. She stands for female strength and empowerment; unapologetic about her muscular build and femininity.

"I love my body, and I would never change anything about it," she told SELF. "I'm not asking you to like my body. I'm just asking you to let me be me. Because I'm going to influence a girl who does look like me, and I want her to feel good about herself."

"I am who I am. I love who I am," Serena continued. "Just that whole attitude of being strong and powerful—that's something I can get behind."

For more from Serena and other powerful women, subscribe to SELF Magazine.


Images © SELF Magazine.