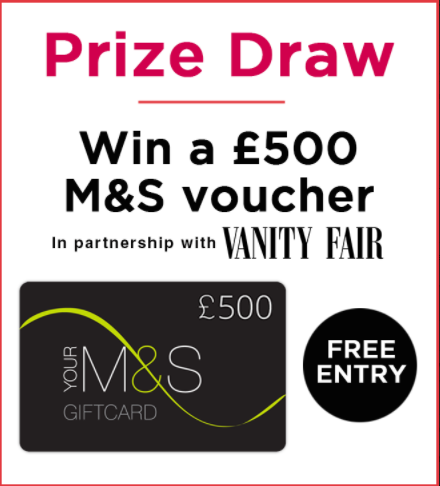 What better way to start the festive season than with a voucher for one of the best shops on the high street?


Well whether you want to update your winter wardrobe, get a head start on the Christmas food shop or simply buy some lovely pressies, it's definitely worth entering our competition to win £500 to spend at M&S in association with Vanity Fair, and the best part is that entry is absolutely free. Simply sign up to receive exclusive offers from isubscribe and Conde Nast Publications, and we'll enter you into the draw.


This celebrity and gossip magazine is your monthly guide to the most talked about news and pop culture developments, whilst also bringing you fashion tips and style guides from leading journalists. Each issue includes striking and occasionally controversial photography from the likes of Mario Testino and Annie Leibovitz, which sits alongside features on some of the most influential famous faces.


Of course, you don't need to subscribe to be entered into the competition, but if you do buy a subscription this week you will be entered ten times. Plus, you will receive the usual discount on the cover price (a saving of up to 46%!) meaning this really is the best time to treat yourself, or someone you love to a monthly delivery of this utterly fabulous magazine.