Red: You're bold, passionate and love to grab life by the horns. You're the boss in both the boardroom and the bedroom and approach every challenge with enthusiasm.
Black or Navy: You're a busy individual who doesn't like to waste time on such frivolities as worrying about socks not matching. Sartorially you rarely take risks, but much of this is down to your desire to always feel in control.
White: Ooh, you're a trendsetter. You pride yourself with looking bang on trend, even if the seasons don't comply. You wear either loafers, or limited edition sneakers, and have a very good colourfast laundry detergent.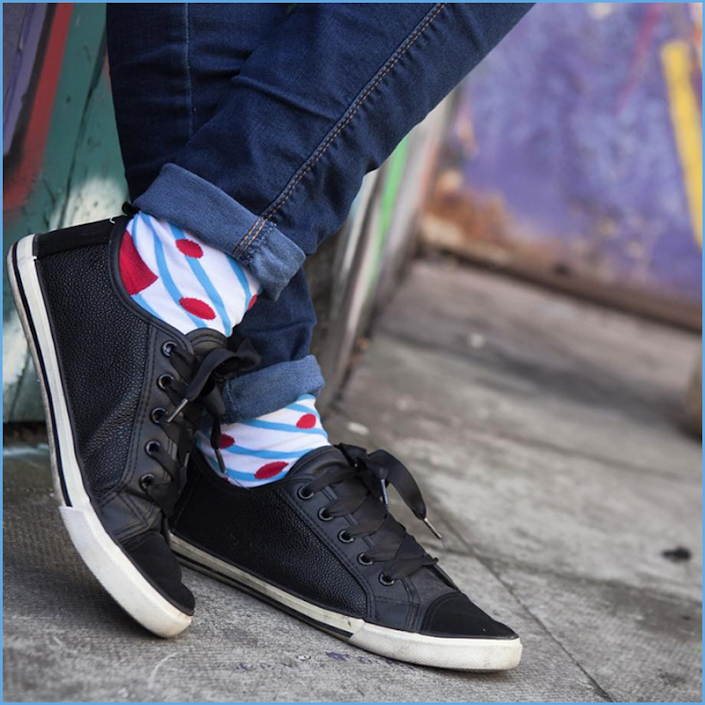 Purple: You love the luxe life and prefer to take a hedonistic approach to everything. You hold yourself with a certain of air of confidence and are extremely charming, though if something or someone doesn't live up to your impeccable standards, then honey, you ain't interested.
Mustard: You're a sophisticated and droll individual who bowls everyone over with your wit and charm. You feel slightly out of whack with the modern world and if you could spend your days smoking a pipe by a log hearth with a good book, well, you darn well would.
Glittery: Remember that time you got sent home for wearing a tutu to work? Well since then you play by the rules in order to fit in, but underneath those sensible slacks and wry smile there's a wild party animal. You little rebel, you…
Patterned: A study at Harvard determined that those who wore wacky socks were more successful than their grey-footed counterparts. So congratulations you clever bean. Now go flash your tootsies to anyone who ever called you slightly mad.
No socks: You're a free spirit, who, perhaps owned a pair of socks once, but lost them somewhere on your travels. Material possessions aren't really your bag, though you do possess a powerful antifungal spray.
Grab a Bryt Sock Club subscription today and save up to 21%off the RRP, PLUS receive a free pair of socks in your first box.