Marvel fans can well, marvel at Total Film's latest cover featuring Thor and The Hulk. In honour of the upcoming 'out-of-this-world epic' Thor: Ragnarok, the leading movie mag invites readers onto the set of the film in Australia to see all the magic and wizardry that goes into making a blockbuster.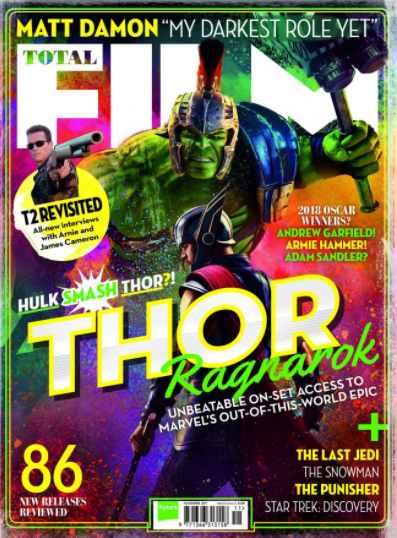 In the highly anticipated sequel, Thor (Chris Hemsworth) and Hulk (Mark Ruffalo) go on a spaced odyssey as they attempt to defeat Marvel's most formidable villain – Goddess of Death Hela (Cate Blanchett). And while the general release cover is a delightful explosion of neon glory, subscribers to Total Film can enjoy an exclusive, even more mind-bending design delivered straight to their door.
Also in November's Total Film issue are interviews with Matt Damon, Ben Stiller and Adam Sandler, along with all the usual behind-the-scenes insights and reviews which come with being one of Britain's leading film mags.
To receive special edition covers and movie news straight to your door subscribe to Total Film and save up to 18%