It's the UK's biggest airport and since it opened in 1946 has seen over 20 million flights take off, so who better than to commemorate it's 70 years of service than fellow national treasure Joanna Lumley?

"It's such an honour to celebrate the 70th anniversary of Heathrow, an airport that has played host to some of the world's most amazing journeys.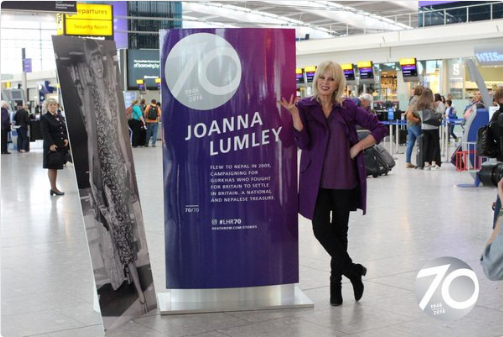 "I have travelled through Heathrow for work, pleasure and for trips close to my heart, with my travels to Nepal being some of the most precious moments of my life," said Lumley, whose most notable trip to Nepal was in 2009 when she led the campaign to allow Gurkhas settlement rights in Britain.

The veteran actress, who herself turned 70 on May 1st, will unveil a series of plaques marking the some of the greatest moments in British history, of which Heathrow has hosted several: from the former Princess Elizabeth returning home in 1952 and setting foot on British soil for the first time as a monarch to the Beatles touching down in 1964 to a glorious welcome, their status as global superstars firmly cemented.

Heathrow chief executive John Holland-Kaye said: "We're very proud of the role the airport has played in millions of people's lives as well as the economic success of the UK.

"This is an occasion for everyone to celebrate how Heathrow's global connections have influenced our nation and to recognise the possibilities of those journeys yet to come."

If you want to feel Absolutely Fabulous grab a subscription to Good Housekeeping which this month stars Joanna Lumley.

Images: Twitter @Heathrow Airport.