When Alyssa Bridge bought a brand new subscription to Vogue magazine for her mum's Christmas present, little did she know that her name would be pulled out of the isubscribe prize draw – or that a cheque for £1,000 would soon end up being ceremoniously placed in her hands!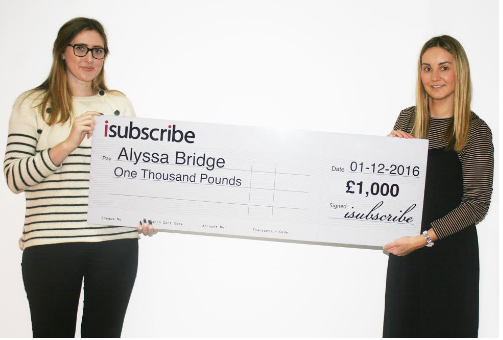 We caught up with Alyssa to talk about her incredible win, and what she plans to do with that early Xmas present…

You bought a subscription to Vogue as a gift, what makes Vogue a great present at Christmas?

I brought this for my Mum as she loves all things fashion and she buys it every month. She can be a little tricky to buy for as she has expensive taste, so I thought this would be the perfect gift to buy her so she can save herself buying every month and get it straight to her door. I am just hoping she doesn't see this before the 25th as it will give the surprise away!


Do you subscribe to any magazines yourself? What's your favourite magazine?

I don't personally subscribe to any magazines as we have subscriptions at work so I always borrow those magazines to read on my lunch break! My favourite magazine is Glamour as the products they have in there are affordable for me and I think they have a great mix of content.

Were you surprised when you won?

I was extremely surprised that I had won. I never expect to win competitions so this was a pleasant surprise. My friends and family thought it was a wind up at first!

What will you spend your prize money on?

I think a well-deserved holiday to Cape Verde next year with my boyfriend will be the perfect way to spend my winnings!

_________________________________________________________________________________


For the details on how to be in with your own chance to win £1,000 visit our competition page – the next winner will be revealed Friday 16th December!

Grab your own subscription to be in with a shot - and with 38% there's never been a better time to become a Vogue subscriber...