Men's Health

If your dad loves keeping fit, then look no further than Men's Health. Each issue is packed with training guides and workout tips to help him get the most out of his workout, plus buying guides for everything from protein supplements to the latest training aids. With advice and guidance from ripped celebrities and sportsmen, as well as expert tips from the best personal trainers in the industry, this magazine is the perfect gift for the health-conscious dad. A 6 month subscription is £17 plus receive a FREE grooming gift set worth £30 that will be an added surprise for him!


Coin News

Coin news magazine is stuffed with everything the avid coin collector needs to know. Whether collecting coins is your father's past time hobby or you're looking to find a new hobby for him, then a subscription to Britain's biggest selling coin collection magazine is the ideal choice! The magazine covers a variety of types of collecting such as Ancients, Hammered, Milled and Modern. It also features banknotes, vouchers and commemorative prizes. There will be regular news updates on the latest developments in the sector such as any rare new finds, sure to excite your dad's current or new interest from just £12 for 12 months for a digital subscription or £22 for 6 months of the printed magazine to his door!


Viz

This magazine contains an irreverent mix of bad language, childish cartoons and sharp satire that a dad with a crude sense of humour will appreciate. It features mockeries of tabloid newspapers articles, letters pages and parody competitions. For a gift with a wonderfully anarchical, incredibly British mix of puerile humour and bizarre oddity, then a subscription to Viz will be right up your dad's street. Subscribe for £14.49 for 6 months plus receive a FREE Viz mug!


Scootering

Focusing on both new and vintage models from the great companies like Lambretta, Triumph and Vespa, this motorcycle magazine has loads of feature articles on restored classic scooters, plus reviews and test drives of the latest models. The best customised and restored scoots are showcased in glorious detail with owner interviews, tech specs and beautiful photographs that pick out every carefully crafted detail. This indispensible guide to everything that makes scootering a way of life is the perfect gift for your two-wheeled loving dad! At under £20 for a 6 month subscription, Scootering magazine is an absolute steal!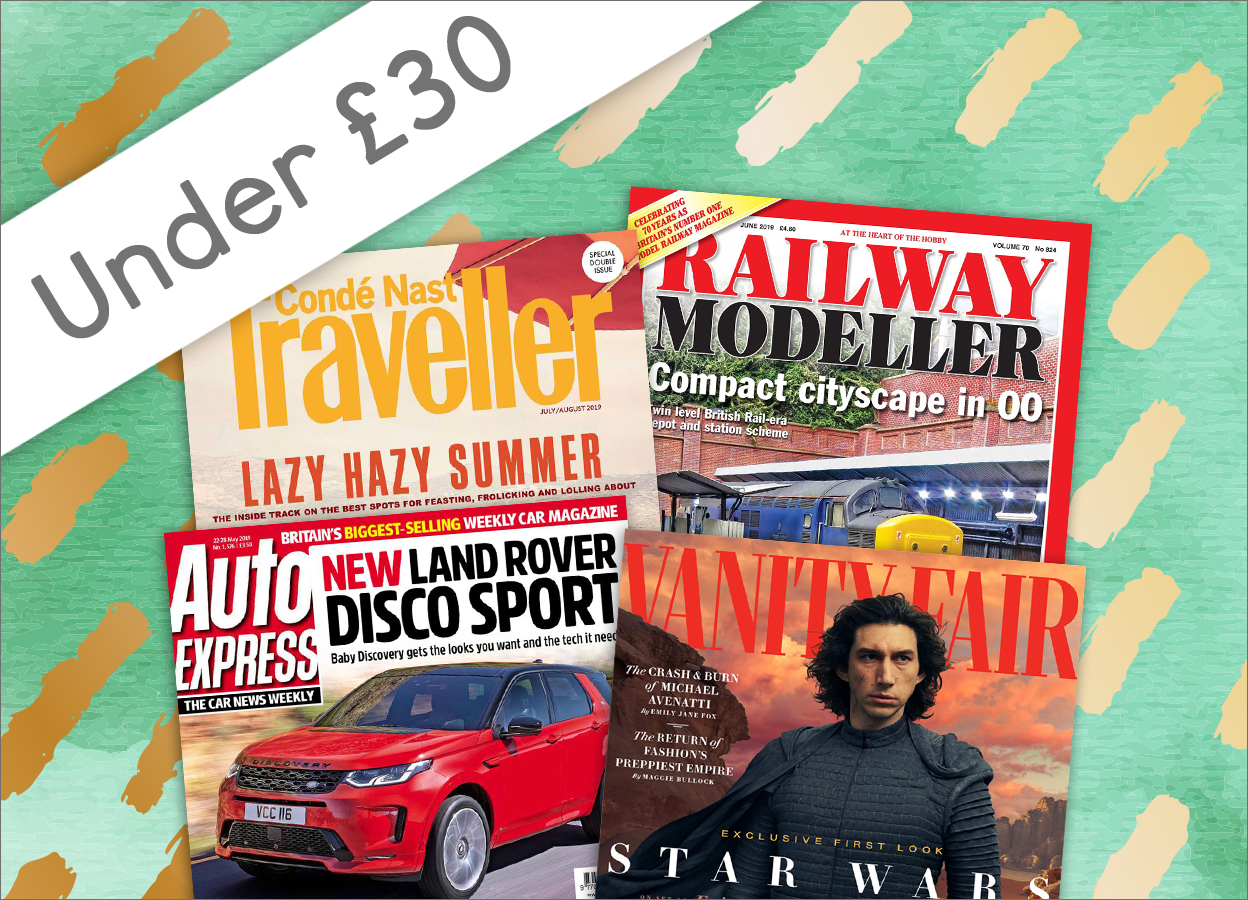 Auto Express

Auto Express magazine is Britain's biggest car news weekly, delivering the big motoring stories as they happen and spectacular pictures of brand new models on the market. It features news, spy shots, first-drives, car tests, road reports, motoring news and much more! A subscription to Auto Express will be sure to please any dad who loves cars. A 3 month subscription of 13 issues is now just £22.99 and with the added incentive of receiving a FREE tool kit it's a must-buy!


Vanity Fair

Vanity Fair is packed full of news and pop culture developments, whilst also bringing top fashion tips and style guides from leading journalists. Each issue includes striking photography, style inspiration and coverage of some of the most important international events. So if your dad's into current affairs, culture & looking sharp then Vanity Fair is definitely for him! For under £30 he will receive 12 months of the print magazine plus digital access to Vanity Fair, a saving of 52%!


Conde Nast Traveller

If your dad enjoys his holidays and is always keen on planning his next trip or likes to indulge in some armchair travel then Conde Nast Traveller can make it happen! This magazine takes a unique look at the world of travel, catering exclusively to those with a taste for luxury. It features only the best restaurants, hotels and resorts, with hand-picked tropical islands and chic local destinations making a regular appearance. For only £29 for 12 months (10 issues) you're making a saving of 41% plus he'll get free digital access. Father's Day is sorted!


Railway Modeller

This brilliant magazine is a great choice for a railway hobby fanatic father. It features detailed scale drawings and layout plans, along with easy-to-follow 'how-to' guides for creating his own models. Whether your dad is new to the game, he'll be well looked after with this magazine with every issue including a special section for novice modellers, as well as reviews of the newest products and up-to-date news. Subscribe today to Railway Modeller for just £23 for 6 months of the magazine right to his door!