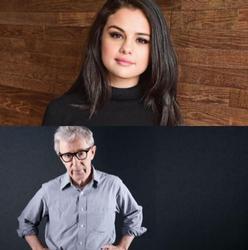 Pop star Selena Gomez has been cast in Woody Allen's next feature-length film.

Gomez previously appeared on screen in movies such as Spring Breakers, The Fundamentals Of Caring and In Dubious Battle. Earlier this year she also turned her hand to executive production, taking on the role for Netflix's controversial drama 13 Reasons Why.

Gomez will star alongside Elle Fanning and Timothée Chalamet in the as-yet-untitled project. Further details about the movie are also undisclosed at this time, including storyline and characters, but it marks the second time recently that a pop star has made the move onto the silver screen, after Rihanna's inclusion as an extra-terrestrial cabaret performer in Luc Besson's sci-fi fantasy Valerian.

For more info on the newest releases in Hollywood, grab a subscription to Total Film – and save up to 18% off today.