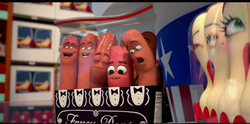 The trailer for Seth Rogan and Evan Goldberg's new movie Sausage Party was unveiled at Austin's SXSW festival and the Internet has gone nuts for the outrageous animation. The clip begins innocently enough with cheery food items in a supermarket cajoling one another as they wait hopefully to be selected by shoppers, and one would be forgiven for mistaking this as another Toy Story-esque, kid friendly romp. That is until the cheery Irish spud, who until this point had been thrilled to be chosen, is viciously skinned alive by a potato peeler.

"The pipes the pipes are calling," he sings in dulcet Irish tones, but then upon being peeled wails: "Oh Jesus, oh f***, she's peelin me f***in skin!"

It quickly becomes clear that Sausage Party is like Pixar but for grown-ups and definitely not children! But what else would you expect from the team who brought us Superbad and Pineapple Express? Touted as the 'first R-rated CG animated movie', it stars all the usual comedy suspects: Paul Rudd, Kristen Wiig, James Franco, Jonah Hill and Michael Cera, with Seth Rogan voicing the heroic sausage who makes it his life's mission to warn all the other food products what dreadful fate awaits them.





With the foul-mouthed but lovable potato being the out-and-out star of the clip, the release is perfect timed for St Patrick's Day and will certainly give us all a bit of Irish spirit.

For those seeking a more authentic Irish experience, why not subscribe to Ireland of the Welcomes?


Sausage Party is due out Agust 12th.