Lindsay Lohan is to return to our screens in the Sky Comedy Sick Note, starring Rupert Grint, Nick Frost and Don Johnson. In the first series, which airs this Autumn, the Harry Potter star portrays Daniel Glass, an insurance rep who is wrongfully diagnosed with a fatal ailment by a dubious doctor (played by Nick Frost).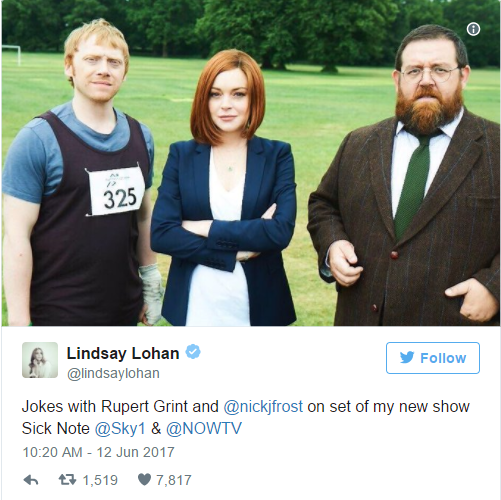 The questionable quack then convinces Grint's character to keep his real diagnosis under wraps, leading to a complex (and hopefully hilarious) web of lies. According to The Hollywood Reporter, Lohan will play the role of Katerina West, the daughter of Grint's on-screen boss (played by Johnson).

Only last month the notorious party girl expressed a desire to return to Hollywood, admitting she missed acting. Let's hope Sick Note is the start of a new era for the troubled Ms. Lohan.

To keep on top of what's on the telly box subscribe to TV Times

Subscribe to any magazine until 19/06/2017 and receive a FREE £5 voucher to use again on isubscribe!