It's been over a decade since James Nesbitt, Faye Ripley and co last graced our screens as part of ITV's landmark show Cold Feet, but their return last night was warmly received by critics and fans alike – many of whom likened the show's return as akin to "slipping on a comfy pair of slippers."

As the mid-life crises abounded, the old cast came together with a few fresh faces thrown in – including 21-year-old Cel Spellman and former-Home Fires and Line of Duty actress Leanne Best.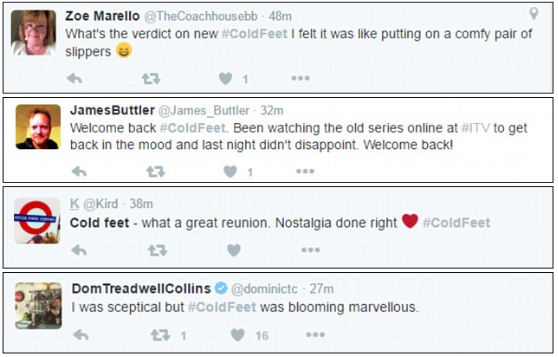 One familiar face that was noticeably absent however, was that of Helen Baxendale, whose character Rachel died in a car accident at the end of the last season, thirteen years ago. Although show creator Mike Bullen had said that he had written Rachel into the new story, Baxendale was less than enamoured with the chance to return to the Cold Feet fold.

For more info on all your favourite television, grab a subscription to TV Times today.