Celebs live in an odd little bubble – paid extortionate amounts for pretending to be someone else, or to kick a ball – but sometimes the worlds of stardom and our own mortal lives intersect, and it is at this fleeting opportunity in time that the celebrity wedding-crasher was born.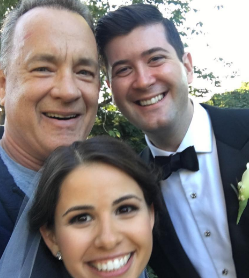 Earlier this week, all-American hero Tom Hanks came upon an al fresco ceremony in the middle of Central Park, and took some time out of his hectic schedule of running to pose with the happy couple.

Early reports suggest that the unexpected appearance by Hanks strengthened his vice-like grip on the title of 'Nicest Man in the Universe', bolstering the claim that an impromptu act of kindness by Tom Hanks is at least 50% nicer than an impromptu act of kindness by any other human being.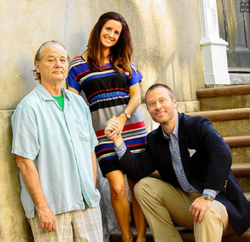 Hanks aside, there is one Hollywood star who has made it his sole goal to appear at unexpected times like a celebrity Bigfoot: Bill Murray. Murray is known for having done some bizarre things throughout his life, and his appearance at the engagement photos of Erik Rodgers and Ashley Donald only serves to solidify Murray's magical mystique.

"I thought who the heck is bothering them," photographer Raheel Gauba told the Post and Courier afterwards. "I turn around and it's Bill Murray with his shirt up, belly out, tapping his belly and trying to make them laugh."

Classic Murray.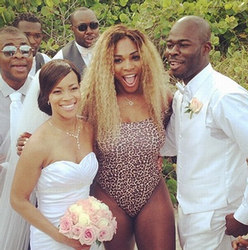 If having tennis superstar and all-round Amazonian goddess Serena Williams rock up at your nuptials wasn't exciting enough, throw in the fact that she was wearing a leopard-print swimsuit at the time and you have a Grade A, bona fide celebrity wedding crash.

Serena, who was holidaying nearby with friend Caroline Wozniacki, appeared from the shrubbery at the wedding, before snapping a couple of shots with the happy couple and disappearing back to the beach.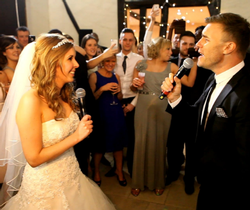 One man who loves to turn up unannounced and have a good old fashioned sing song is Britain's favourite crooner Gary Barlow. The Take That frontman appeared at one super-fan's big day in order to get down on one knee himself and serenade the blushing bride with his romance-filled hits A Million Love Songs and Relight My Fire.

Of course, no one is quite sure whether the gracious groom was also a fan of Barlow's tunes, or how he felt as his new wife's hero crouched down in front of her and crooned her silly…

If you're looking to get married in the near future (Bill Murray or no Bill Murray), grab a subscription to Perfect Wedding - now with up to 10% off.