Marking her 90th birthday, the shot is additional to the three official images celebrity photographer Annie Leibovitz took of The Queen at Easter. Titled 'Her Inner Majesty' it reveals a softer side of HRH as she poses with her beloved pets - two corgis, Willow and Holly, and two dorgis, Candy and Vulcan – on a tartan blanket in the grounds of Windsor Castle.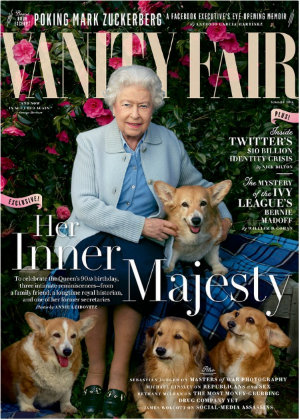 "The most moving, important thing about this shoot is that these were all her ideas," revealed Leibovitz. "She wanted to be photographed with her grandchildren and great-grandchildren; her husband, Prince Philip, the Duke of Edinburgh; her daughter, Anne, the Princess Royal; and her corgis."


The issue, which is out Friday, also has a photo of Queen Elizabeth with The Duke of Edinburgh along with the three official portraits and coincides with Her Majesty's official birthday on the 11th of June.


"I was told how relaxed she was at Windsor, and it was really true. You get the sense of how at peace she was with herself, and very much enthralled with her family," adds Leibovitz on Vanity Fair's most regal cover girl yet.


To own this commemorative edition and see more of the stately snaps subscribe to Vanity Fair.