On 18th October, after an incredible eight years in The White House, the Obamas hosted their last ever state dinner. The president may have cut a handsome figure in his trademark tuxedo, but it was his gorgeous wife who literally made draws drop in a floor-length, rose gold chainmail Atelier Versace gown.

"Today is bittersweet for Michelle and I because this marks the final official visit and state dinner of my presidency," President Barack Obama said earlier in the day. "But it's OK. We saved the best for last."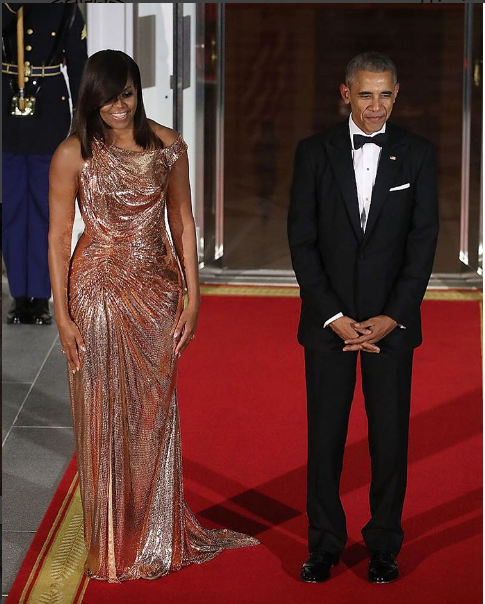 And he wasn't kidding… Along with his wife's fabulous frock, the party was First Class Presidential affair. in honour of visiting Italian Prime Minister Matteo Renzi and his wife, Agnese Landini, entertainment was provided by singing superstar Gwen Stefani and Chef Mario Batali was in the kitchen.

Politics aside, during their tenure the Obama's have come to signify a certain brand of style, grace and old-school elegance. Becoming an icon in her own right, the First Lady has often used her platform to advocate causes close to her heart, for example, calling for the release of the Boko Harem girls – the #BringBackOurGirls campaign – and a general devotion to empowering the less fortunate and disenfranchised. Not only has she become a trendsetter, but she also ushered in a new era for women in politics. With her kindness, warmth and glamour, she has always stood firmly as her husband's equal and has been hailed by feminists globally for her empowering spirit.






The media too, has been forthcoming with their tributes to the inspirational Mrs. Obama. The New York Times wrote her a love letter, with contributions from Gloria Steinem and Chimamanda Ngozi Adichie, who named her 'An American Style Icon,' going on to say: "She hugged more people than any first lady ever has, and she made 'first lady' mean a person warmly accessible, a person both normal and inspirational and a person many degrees of cool."

There may be tears as the First Lady bow's out, but if her final dinner is anything to go by, she is far from finished in her quest to uplift and inspire the globe.

For up-to-date news on American politics, grab a subscription to The New York Times

Images: Instagram versace_official