Following on from their February 2017 issue in which every single photograph was created by women – from the photographer to the hair stylist – Glamour magazine has gone one step further and produced their November issue commissions with exclusively female talent – from photographers to make-up artists, writers to set designers.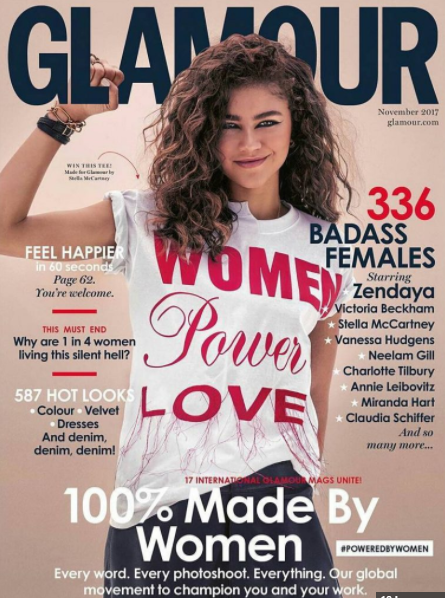 Seventeen issues of the fashion magazine globally have been produced in this way, highlighting Glamour's further global commitment to gender equality and supporting female creativity within the industry. To celebrate this initiative, Stella McCartney has designed a t-shirt for Glamour celebrating women's empowerment. The proceeds from this limited-edition t-shirt will benefit The Girl Project, Glamour's philanthropic initiative that supports education for girls.
All seventeen editions of Glamour worldwide feature this special Stella McCartney tee on their November issue cover. American actress and singer Zendaya wears the tee on the covers of American, British, Dutch, Icelandic, Romanian and South African Glamour.
Jo Elvin, Editor of British Glamour commented: "We are proud to play a part in increasing the visibility of more women, on a global scale, via our pages. Of course, this is not the job done. Glamour has always been committed to seeking out and celebrating female talent, but this exercise and the lessons we've learnt from it mean that going forward, we will be redoubling our efforts on that front."
Subscribe to Glamour today and save up to 33% off cover price