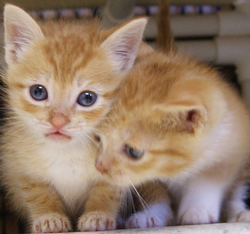 The stereotype more commonly goes that women who don't get married are the ones who spend their days surrounded by cats – but one Canadian couple have put paid to that with a wedding that included 1,000 of the whiskered well-wishers. Louise Veronneau and Dominic Husson were married at one of the USA's largest cat sanctuaries, The Cat House on the Kings in Fresno, California, in a ceremony officiated by the Cat House's owner Lynea Lattanzio.

"I saw that we shared the same values," said Veronneau, "Our love for animals and beings are our values, the basics of our relationship."

"We are both animal lovers and it was easy," added Husson, "She is a great person – that is why I married her!"

Normally a wedding with over 1,000 guests would be a logistical nightmare, but with Husson and Veronneau managed to side-step some of the biggest problems faced by a bride and groom. We can only assume that the catering was put on by Felix and, despite the possibility of the odd hairball, the wedding went without a hitch.





The only problem came when the couple returned to their native Canada only to find that their registered wedding gift list had been bypassed by their feline guests in favour of leaving a half-eaten bird on their doorstep.

If you too adore cats in all shapes and forms, grab a subscription to Your Cat – now with up to 27% off.

Instagram Image from @thecathouseonthekings