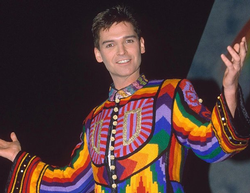 He made his stage debut in 1992, after replacing lovable Aussie Jason Donovan in Andrew Lloyd Webber's Joseph and the Amazing Technicolour Dreamcoat, before going on to become one of TV's most recognisable faces, but Philip Schofield will be reprising the role for a couple of songs in order to honour the knights and dames in the entertainment industry.

The 54-year-old This Morning host – who revealed recently he still owns the famous coat and infamous loincloth from his run as the songful protagonist – will be part of the Knights of Music tour, which visits theatres in Cardiff, Ipswich, Northampton and Southampton between April 21st and 24th.

"It will be the first time in 19 years I've sung Joseph and 17 years since I've sung on stage. What's lovely is for everyone who saw it back then, it's a real bit of nostalgia," said Schofield, "When you've done something I can't remember how many times, it's in there somewhere. I can still remember all the colours in the right order so it's strange what goes in and stays. It was such an extraordinary time of my life, it was a bizarre thing to even be asked to do because it was so far away from what I ever planned or thought about doing and the risks were enormous if I had got it wrong."


For more information on what your favourite TV celebrities are up to, grab a subscription to OK! magazine – now with up to 52% off.